Morgane joins us all the way from France! Before she even met us at Ulovane, she was brave and adventurous to join our friends at Imire as well as the Shamwari Conservation program. By the time Morgane has completed her 10-week Online Apprentice Field Guide course and received hands-on experience with our friends, she was ready to go and already a part of the family. Morgane has a plan to turn her passion into a profession and she is doing great, we are excited to see where she goes with her passion and dedication!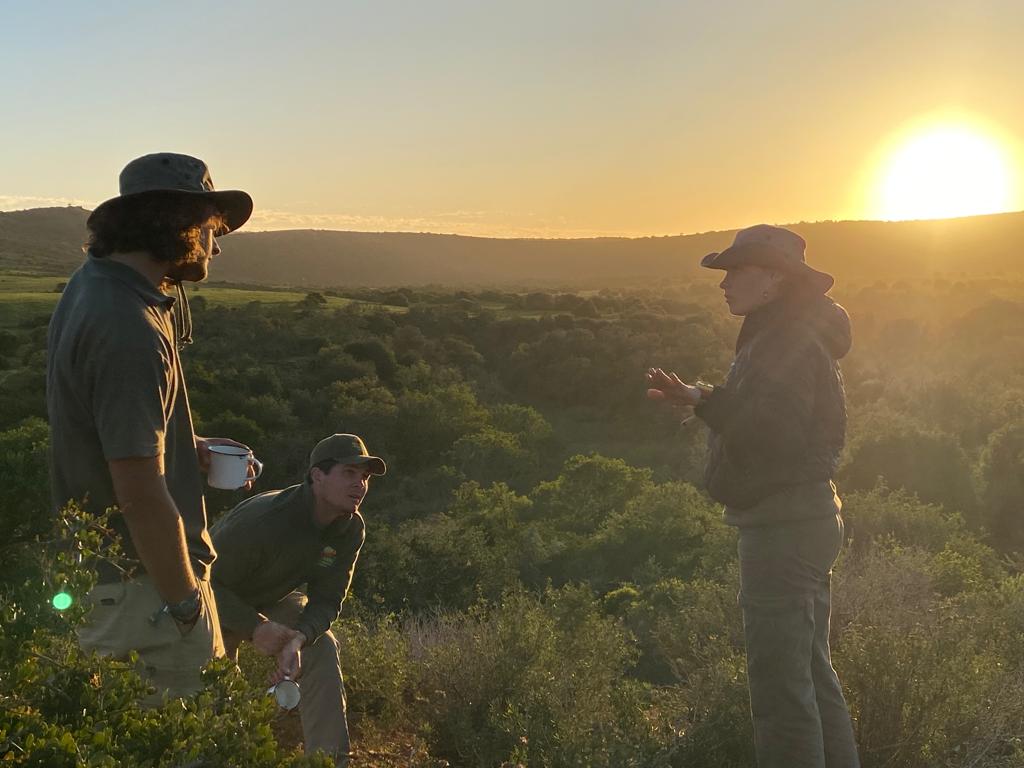 It's been 2 weeks since I left France to join the Field Guide Course onsite at Ulovane. Although I studied all the modules online whilst, at home, I now need to focus on the practical side of things. That means feeling, smelling, seeing, and living in the bush to understand more about what goes on here and to answer the most important question for a guide: why?

This second week I had to study Reptiles, Birds, Botany, and Astronomy. Everyone here knows that Birds is not my favorite module but I've spent so much time on volunteer projects watching and identifying them with friends that are true bird nerds that I've accidentally become quite knowledgeable about these feathery animals! Botany wasn't my main focus either but learning about how you can use plants medicinally, to decorate, for fencing, and even for painting is very, very cool. It's also always good to remind yourself how significant of a role plants play in our ecosystems.
As a good luck charm before my Reptiles exam, a beautiful Spotted Bush Snake slithered into the classroom to say hi. After spending some time on the thatched roof, it disappeared into the bush, leaving a nice image of it stuck in my mind.
Learning to drive a 4×4 in the bush with the steering wheel on the right side (more like the wrong side) is the most challenging part for me as it is literally the opposite of driving in France. I am trying my best to tame Theo and Sully (the two four-wheeled wild animals we have here on Ulovane) but I can tell you now, they do not go easy on you!
My English is not so great but everyone is very patient with it which is very appreciated!
The week ended with First Aid and that was definitely the highlight. A quick tip: if you're going to use a spine board, make sure the Velcro straps can hold the weight of your patient upside down. Why would you need to flip a spine board upside down you ask? It's to avoid them choking if they start vomiting. But if the straps aren't strong enough, they may end up faceplanting on the concrete floor instead! Good thing Rob was able to free his hands in time to break his fall… We live (thankfully) and we learn! – Morgane Sevellel
---
Prepping for Assessment Game drives 🤠
With the hectic final weeks of assessment looming over us, week 8 of the Field Guides course at Ulovane was a fantastic learning experience, especially through all our mock assessment drives. Conducting a four-hour drive with 'guests' (the other students) in preparation, really showed me the range of skills guides effortlessly display day after day. It was also a nice confidence tonic, in spite of my getting lost while on my drive… While you might think 8 weeks of having our noses in books and going on game drives would prepare us for leading one, the amount I still didn't know while out in the bush is a testament to the dedication of people like our instructors Karien, Piet and Schalk whose encyclopedic bush wisdom cannot be crammed into 10 weeks, but rather must be experienced over decades.
Another highlight of last week for me was the hospitality 101 and wine pairing evening hosted by the lovely Candice. This was a rare opportunity, given our busy timetables (worthy of Prime Ministers, I tell you), to relax, unwind and enjoy an evening in one's own clothes, sipping delicious South African wines and savoring each other's company.
Despite the Trails Guides' departure to the sunny coast two weeks ago, our smaller group made up of us Field Guides and the amazing Eurydice has still had a blast. With some cozy movie nights and a mean malva pudding whipped up by Ethan, Ulovane is still a wicked place to be even if it looks emptier.
Much like most people who come on safari as guests, we all envision mammals and their behavior as the highlight of being in the bush, and this week, we finally covered those modules in class. What was interesting to me was observing the differences between what we read in the manual and my true observations from 8 weeks of game drives on Amakhala. I can only look forward to more fab mammal sightings and with any luck, we will spot the 2 new baby elephants Amakhala's breeding herd welcomed this week!
With final assessment drives starting on Tuesday, so begins a crazy final stretch at Ulovane, topped with a healthy dose of stress. However, I am sure we will all get through it together, working as a team as we have for the past weeks and savoring every moment deep in the bush life!
Jack Horwitz, United Kingdom
"The best things in life are the people we love, the places we've been, and the memories we've made along the way."

– Unknown
---
Saving Piet the Penguin 🐧
Week two of our Marine Guides adventure began with a trip down to a beach near Port Alfred to collect specimens. The major topic for this week was marine invertebrates, so our focus was finding shells and exoskeletons of the many, many species we have in our area. We found some very interesting things that morning, with some highlights being a St Joseph shark egg casing, a larval form of an eel called a Leptocephalus, and a juvenile common octopus who was especially fond of Laurien's toes.
Tuesday morning consisted of a short lecture on marine ecology before we set off for Kenton-on-Sea. After a week of poor conditions, the ocean had finally cleared up enough for some snorkeling, and that's exactly what we spent the rest of the morning doing. That changed when we noticed a young African penguin (later baptized Pieter Penguin) up in the rocks. He looked a little worse for wear and was obviously far away from the colonies of St Croix and Bird Island, so we took the decision to capture him and call SANCCOB to have him transported to their facility in Gqeberha. They arrived not long after, and Pieter was quickly on his way to being rehabilitated. Hopefully, we'll have an opportunity to visit SANCCOB next week and check in on him. We returned to the beach, and to the Bushman's river mouth in particular to try and catch a glimpse of some fish entering the river on the incoming tide.
Unfortunately, there was too much sediment in the water to see more than arm's length in front of you, so we called it fairly quickly. The rest of the afternoon was spent in a lecture getting stuck into the large topic that is marine invertebrates.
Wednesday's conditions were pretty poor, so we dedicated the day to finishing all of our workbooks in preparation for the busy few days to follow.
We were up at the crack of dawn on Thursday to head up the Kleinemonde West River. The birdlife was incredible: we saw a giant kingfisher, African spoonbills, pied kingfishers divebombing, and even an African Fish Eagle perched up in the hillside euphorbias. Whilst this was all incredible, I think I speak for everyone when I say the highlight was Matt S managing to capsize his canoe, and struggling for the next 10 minutes to get back in.
After taking a slow paddle back to the launch spot, we headed back to the house to change and eat, before heading out to Riet River to snorkel at Three Sisters. We struck gold with the conditions, and words cannot properly convey just how stunning the water was. We arrived at the Spring low tide, so all the rocks, pools, and channels that had been covered the week before were perfectly exposed for us to explore and snorkel in. The extremely low tides revealed some awesome species, such as a giant limpet, thousands of red bait, and multiple evil eye pufferfish. We also spent some time up on the wave-cut platform checking out the various rock pools, including one that contained a variety of beautifully colorful soft corals, a truly unique find. We ended our excursion with a good old-fashioned diving session into one of the deep channels that we had found, with many a swan dive occurring, some more graceful than others…
Friday was a special treat organized by Schalk, a river barge trip up the Kowie river. It was nice to take a step back and relax after the full-on activities of the day before. We followed the river up to a deep section where we rigged up some lines to fish for mud crabs. After about an hour, we had 4 crabs to show for our efforts, and we made our way to a nearby picnic spot for a well-earned boerie braai. On our way back we found another deep spot for round 2 of our diving antics, this time off the barge roof and with even less grace than the day before. All in all, a fantastic day despite the fact we all got quite sun-kissed.
Saturday was rather subdued compared to the previous two days as we used it to study for our test on Sunday morning, but it was time well spent nonetheless.
I've found this week incredibly enriching both in terms of what Schalk has taught us in the classroom, and perhaps even more so from the practical experience, we've gotten from being out in the field in such pristine conditions. Here's to the next two weeks being more of the same, if not better!
Gregor Bell, St Francis Bay, South Africa
"The ocean stirs the heart, inspires the imagination and brings eternal joy to the soul."

– Robert Wylan