Last week, we completed our Apprentice Trails Guide course, we finished strong and everyone passed the theory exams (YAY). Liam and JP who had passed ARH earlier in the course also went on to pass their practical walking assessment. Excellent stuff all around!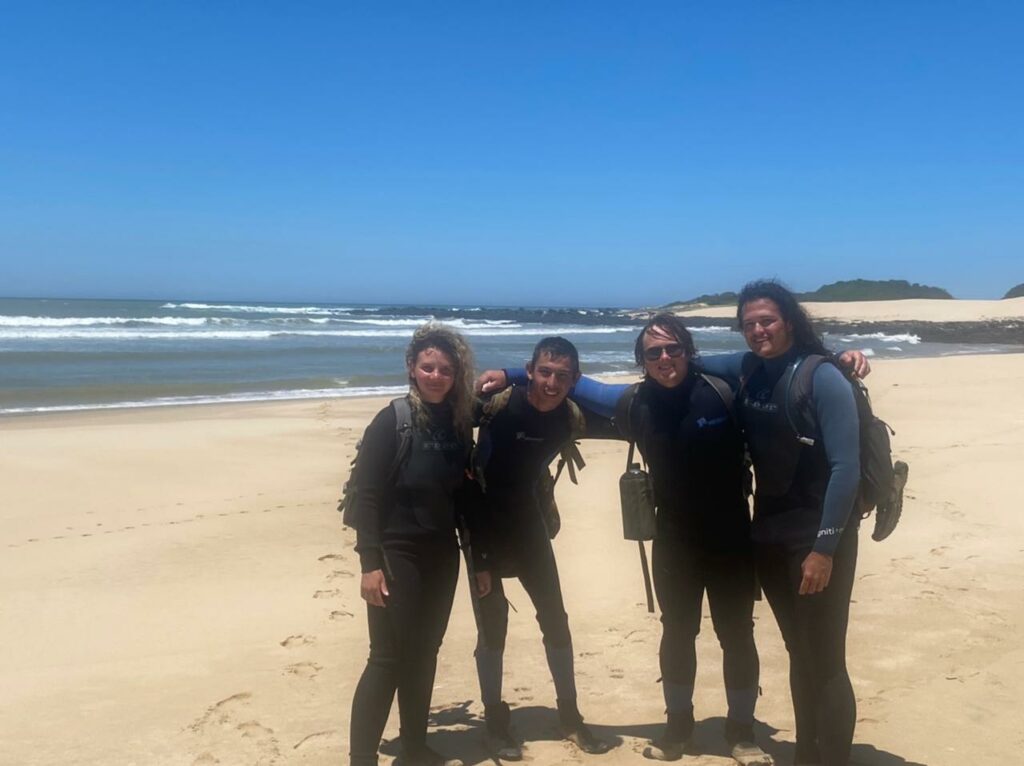 Now we're starting the marine guiding in a completely different setting, we headed off to our base, in Kleinmond and moved in with our wonderful hosts Paul & Jane Cowley.
We kicked the week off with a beach walk and saw a lot of interesting creatures that you don't usually pay attention to. From different kinds of sponges to snails and even cuttlefish remains. What a beautiful area we get to explore for the next 4 weeks!
The following day we collected some sea plants to identify and learn about for the modules we're busy with this week. It's not easy when most of them look really similar! But we forged on and slowly but surely this whole new world is opening up to us.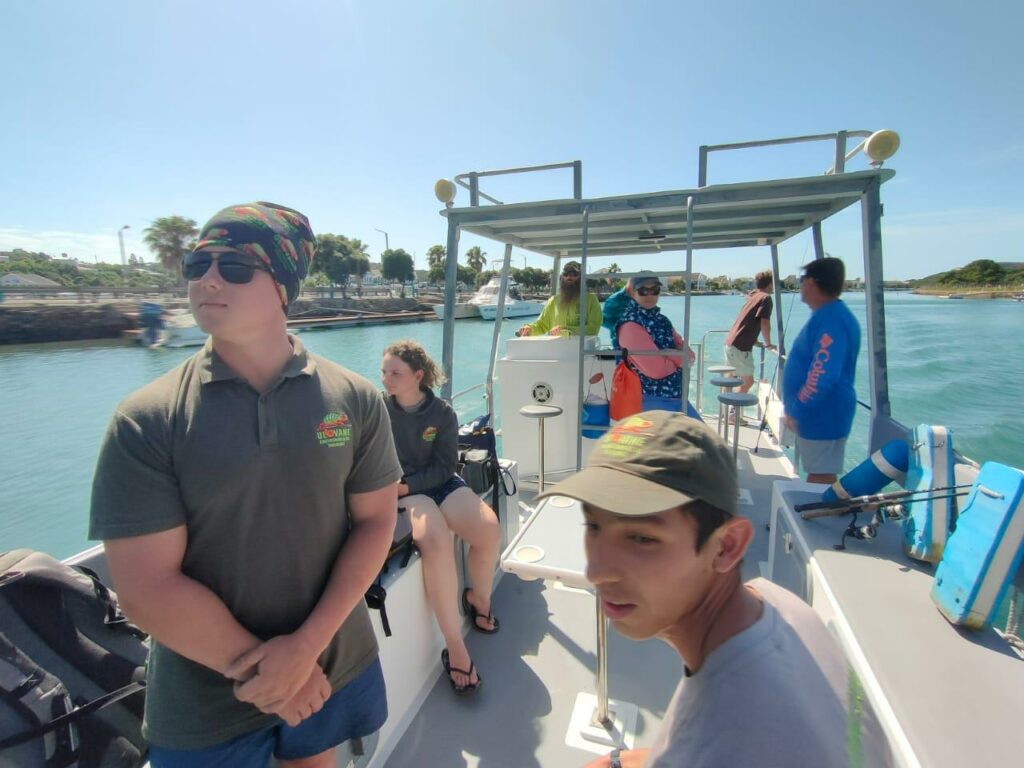 Midweek brought a change in pace and we learned patience during a fishing trip on a barge down the Kowie River with Paul, Jane & Schalk, we caught a Blue Swimming Crab and a Cape Stumpnose fish! We cooked a delicious meal with them, which made all the patient waiting worthwhile. 
After the fishing, it was back to lectures and studying. Jane cooked us an amazing Mommy meal for dinner, which regenerated our energy for the remainder of the week. 
Friday we had a blast while snorkeling. It was my first time, I found it quite weird at first to be able to breathe underwater and it took a while to get used to, but once I got it, it was a breathtaking experience! It is a whole new world underwater. Afterward, we sat on one of the mountains with a beautiful ocean view, to identify all the plants and creatures we had seen underwater. From a distance, we saw a baby humpback whale splashing and playing in the water, with its mom next to it. What an amazing sighting!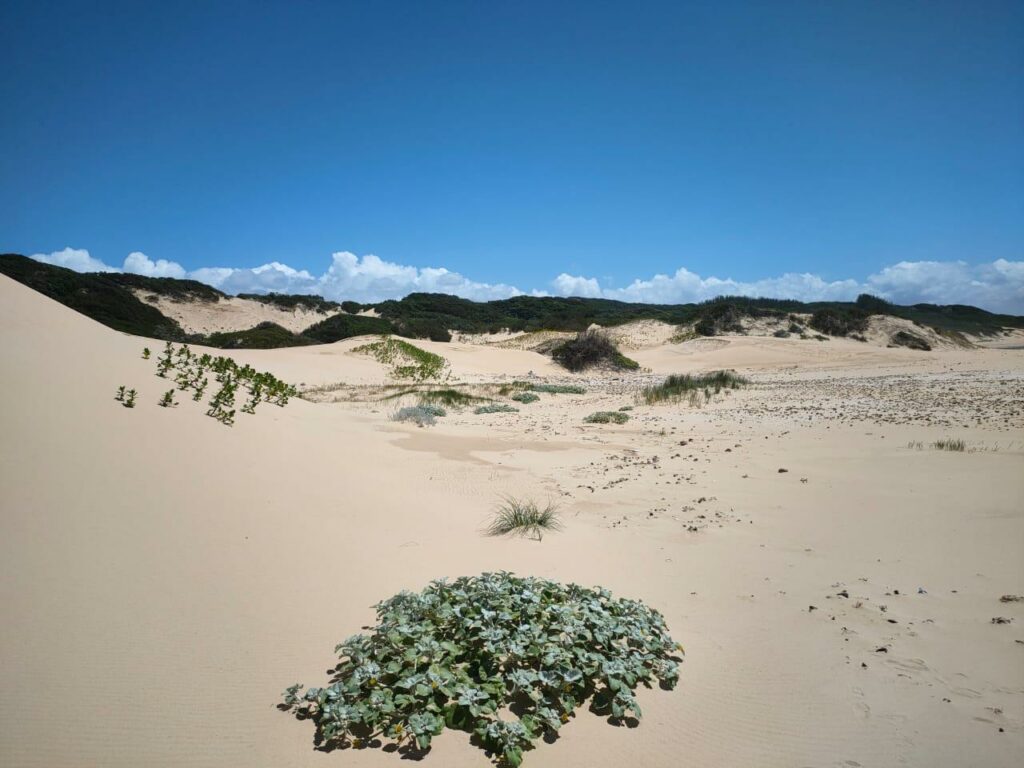 All that excitement was followed by another study day for the big Sunday exam, after which, we finished off the week with an amazing, peaceful kayaking trip. We went on the river between the thickets, with no sign of people, just birds singing, cicadas buzzing, and awesome animal sightings. We saw a Cape Weaver making its nest, fish jumping out of the water over the boats, and crabs crawling around. 
It was the best way to end our first week! – Karien Greef (SA)
"The ocean stirs the heart, inspires the imagination and brings eternal joy to the soul."

– Robert Wylan
---
SNORKELING ADVENTURES
This week, we went snorkeling around the Three Sisters' area in search of marine invertebrates, in order to get there, we needed to pack for a full day out and walk along the coast. As we got closer to our destination, we saw how lovely the sea was, we could see the clear waters shining as we began to search the sands for any marine invertebrates we could find.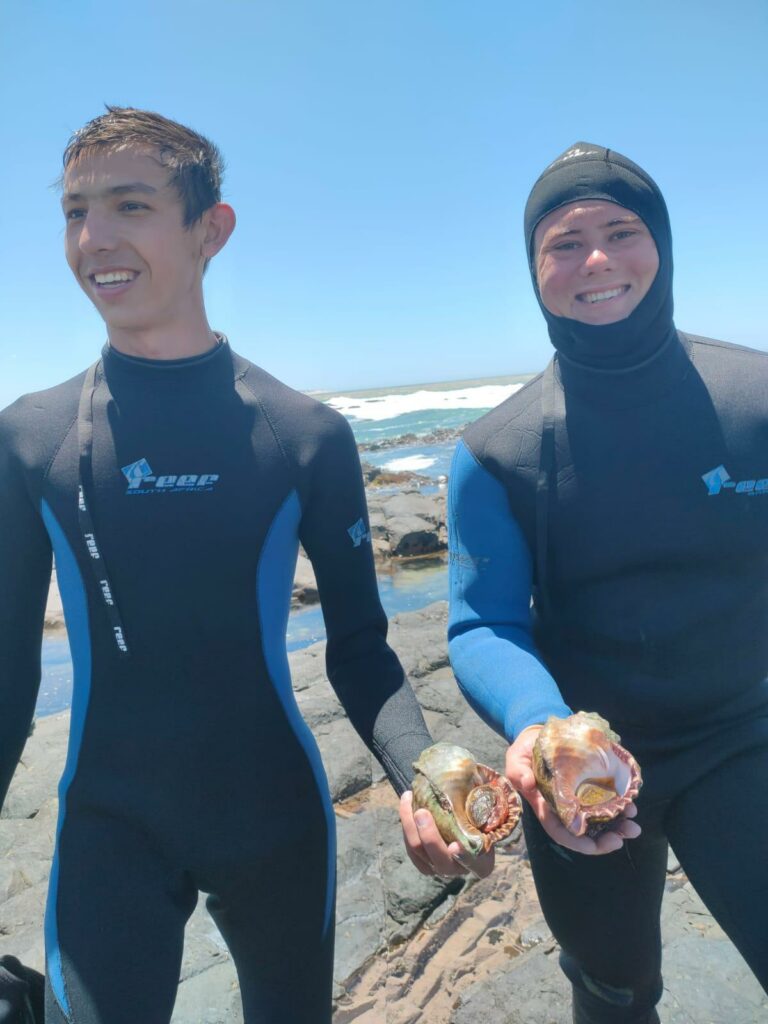 Approaching the sandstone rocks, we saw large breaks and gaps in the rocks, it was so interesting to learn about how the coastline was formed. We donned our wetsuits (or penguin suits as we like to call them) and got ready to fly through the water. We split into teams to make it easier to search for something that may be laying hidden in the shadows of the rocks. As we searched, we came across a cave in the sandstone, it was dark, but still so amazing to see underwater.
On the second day of snorkeling, we continued to work around the Three Sisters' area, this time, as we began our walk, we gained an extra companion, a beautiful dog (Bella), who decided to be part of our little tribe and joined us along the beach. Once we arrived at the estuary, I was surprised how such a small dog can cope with swimming in the sea, she is definitely a pro!
The water of the estuary was beautifully clear, initially, we searched the beach for marine invertebrates, then moved on to the rock pools. Once again, we dressed up like penguins in our wetsuits and got into the water to have a closer look. The dog Bella decided to wear a penguin suit as well and joined us in the water for a swim. Once again, we split into teams and began our search of the rock pools. Honestly a beautiful whole new world has opened up to us, what a privlidge it is.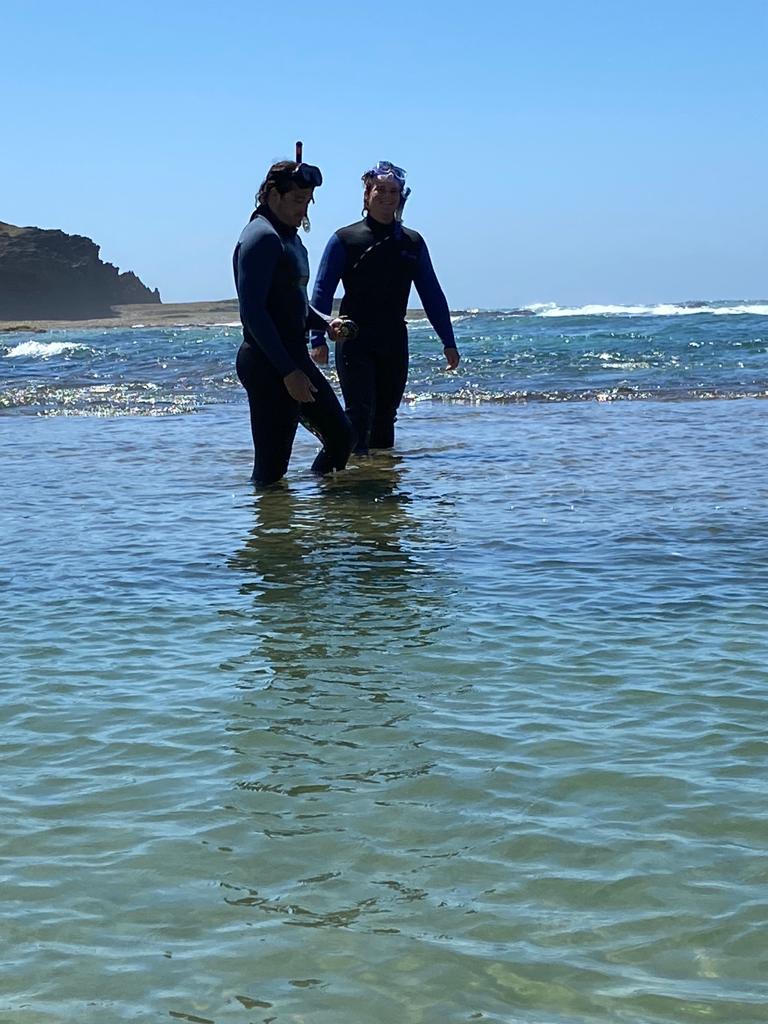 After our time in the water, we decided to do our identifications sitting on top of a large rock we could see in the distance. As we made our way, we realized just how big the rock was and that we would have to climb a mountain to reach the summit. We made it to the top (dog and all) and began our marine invertebrate identification. While sitting there we had two wondrous sightings, first a beautiful humpback whale, jumping out of the water and taking a breath, her small calf alongside her. Then a few minutes later, a large fish was slashing its tail out of the water. It was so amazing; I cannot believe we were lucky enough to have both these sightings in one place.
As we made our way back, we saw grey heron tracks close to the beach, very cool, we do love our tracks! We continued looking for any more marine invertebrates on the beach, but as we got closer to the estuaries, we lost one of the group, Bella decided she had had enough, said thank you for the walk, and made her own way back.
It was such a brilliant day; we were happy and tired upon our return.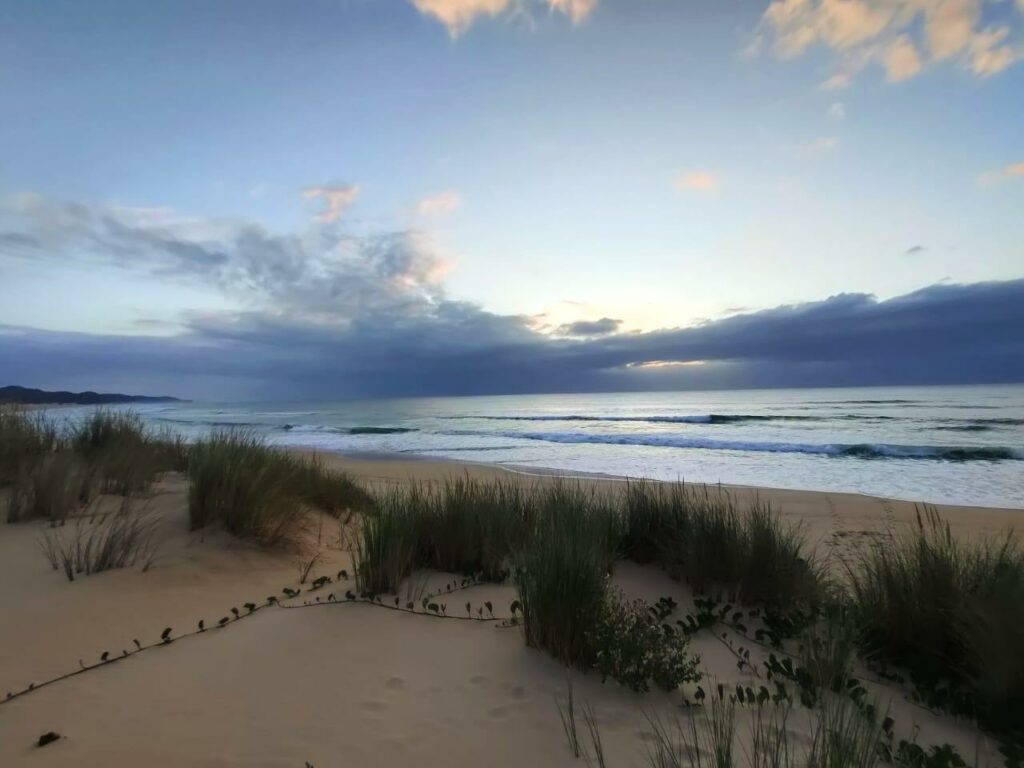 0n the third and final day of snorkeling, we headed to a new area called Fish River. We packed up and headed out, excited to visit a new place. As we walked up the beach, we witnessed a brand-new landscape of metamorphic rock and evidence of sediment deposits. Making our way to the rocks, we came across a tiny baby octopus laying on the beach. It was so amazing to touch it. They feel like a bit like jelly.
Once we arrived at the rock formation, we found hermit crabs fighting over an empty shell (cool sighting!). And as it was low tide, we were able to see lots of starfish, it was great to see them and to have the opportunity to pick them up and have a good look at the tentacles and mouthparts. Along with the starfish, we also found a brittle star attached to the rocks.
We got back into our penguin suits for a final time and entered the water, I cannot get over how much of a different universe it is once you are in the water and submerged. I got very excited when I found a sea slug feeding on some seaweed and jumped out of the water, calling everybody over to come and have a look. Further sightings in the rock pools that day were numerous crabs and a large octopus, which I caught a glimpse of as it swam past me, tentacles flowing behind it.
A change in wind direction and sea conditions brought our snorkeling to an end. We took some group shots in our lovely wetsuits and reflected on another amazing day by and in the sea.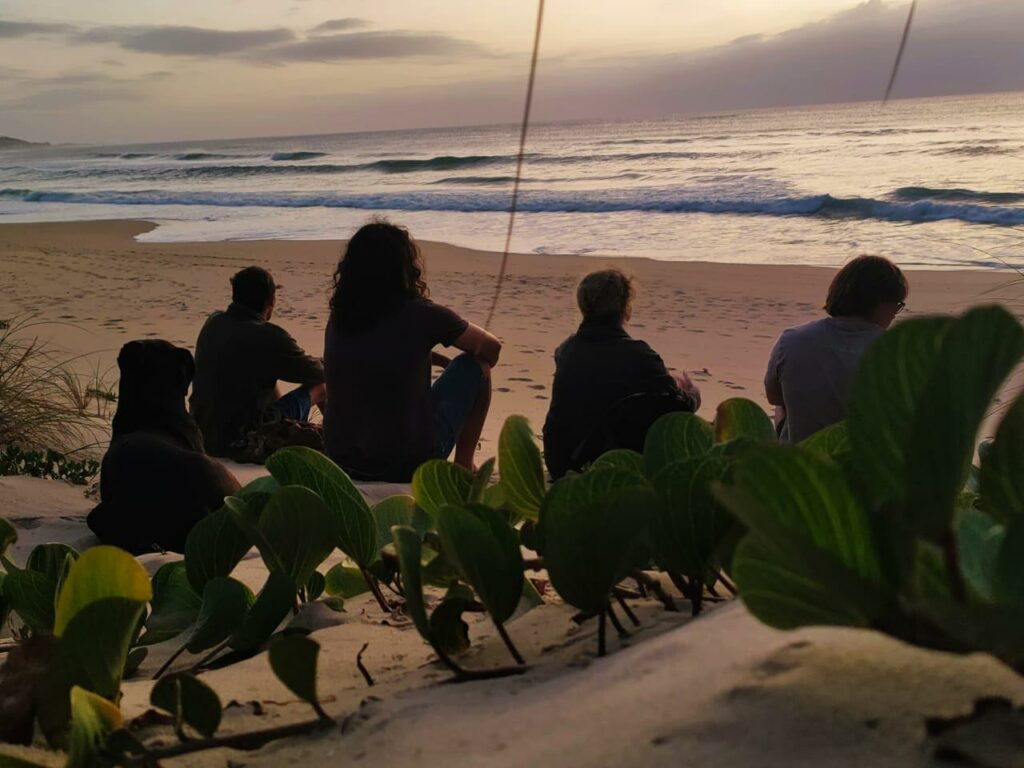 A further memorable experience from this last week was making a group decision to get up early for a sunrise walk along Kleinmond beach, this time accompanied by Jock the dog. We found a nice spot to sit and relax, swallows flying above our heads, and watched the sun rise over the water. Overall, a wonderful and beautiful week by the ocean. – Rikus Smit (SA)
"I wanted freedom, open air and adventure. I found it on the sea."

-Alain Gerbeault

Note from Editor: We have added links to the areas, we explore, for to have a look at the beautiful areas we have access to during our Marine Guide course.