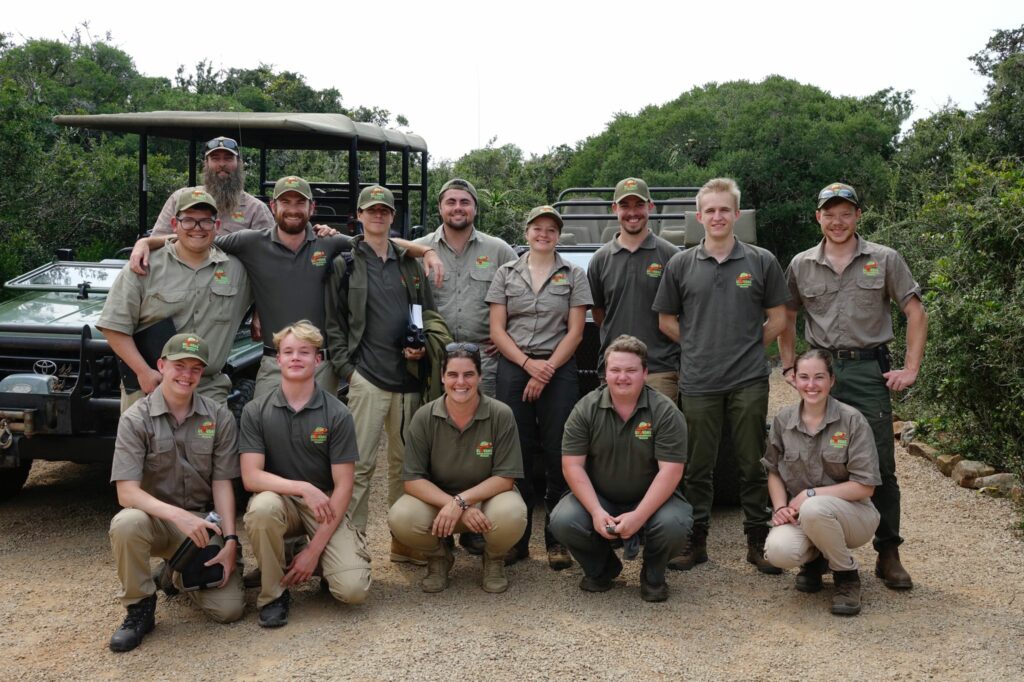 The first week went as first weeks go, it was new, exciting, and a bit chaotic at times.
We learned a lot and met many new people but most of all had a lot of fun. It took some adjusting to be ready for a game drive at 5:30 in the morning on your first day, but seeing the first Amakhala elephant definitely made it worthwhile. We also heard our first ring-necked dove sing to us "drink laaaager", but little did that bird know that we would have to wait a few more days to do that. For now, we just imagined him singing "work haaarder", and work hard we did. In the afternoon, Karien and Schalk gave us an introductory lecture, in which we learned about each other, what our time at Ulovane is going to look like, and the history of Amakhala Game Reserve.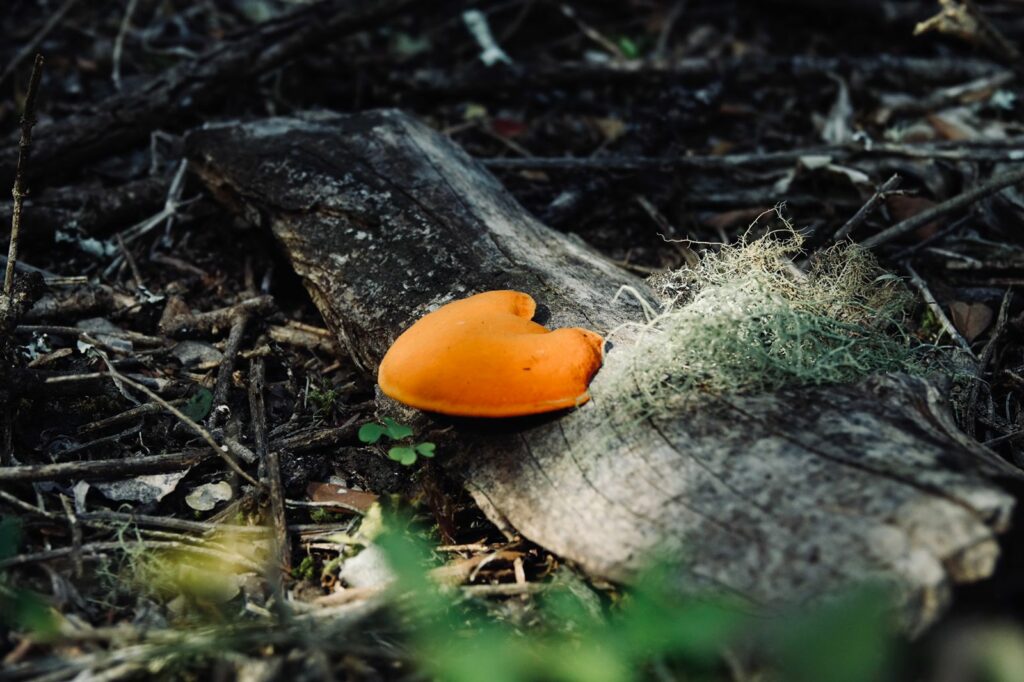 On Tuesday we got to sleep in, as our lecture didn't start until 7:00! Well-rested and eager to take in more information, we sat in the classroom, as the sun lit up more and more of what surely must be the most beautiful place in the Eastern Cape. Karien explained to us what it means to be an ethical guide and in the afternoon we got to apply those values when we came across two Rhinos during our game drive. They had just been rolling in the dirt, which made for a beautiful display of colour, and we were able to shoot some beautiful pictures of this mom and her calf, while we, of course, kept a respectful distance. The male Lion made an appearance as well this evening, another beautiful memory. We had been here two days and were already all blown away with the show Amakhala was presenting us with!
The next morning in the early hours, we dragged ourselves into the classroom, this time to learn about what the starry night sky of southern Africa has to offer, and Amakhala's standard operating procedures were reviewed as well. After feeling more confident about reserve operations, it was time to head out for an afternoon game drive!
We were lucky once again. We had barely entered Carnavoran Dale and we bumped into mother cheetah with two juveniles. As the sun had just started to disappear behind the mountains, we got to take some gorgeous golden hour pictures, before watching these big cats blend in with the field, on their way to a herd of zebra and wildebeests. As we drove back in the dark, we saw the southern cross, as well as the constellation of scorpio, and, not to forget, an overwhelming amount of spring hare.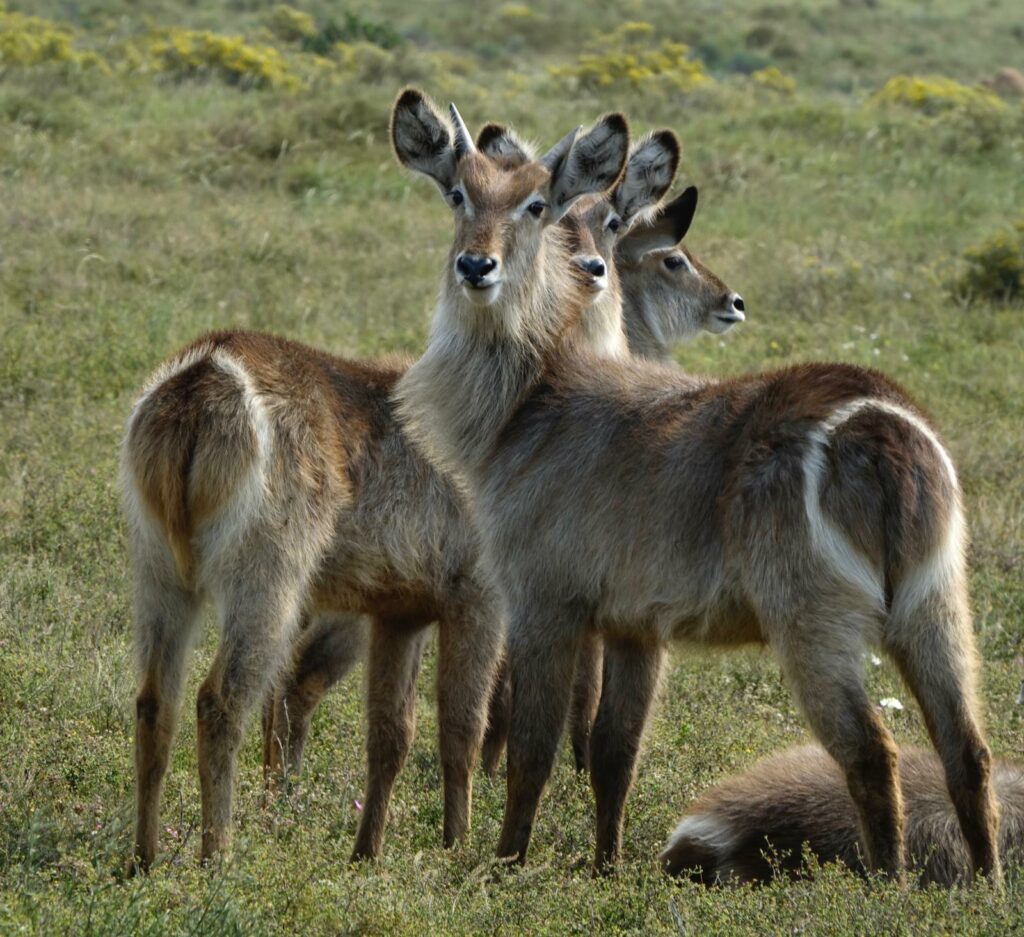 By Thursday we were onto vehicle skills, which was a very dynamic lesson, as Schalk got us to lay under both vehicles to show every component we needed to know. In the afternoon we put our vehicle skills to the test, as we had to drive our first few meters in Theodore and Sullivan. For some this was a bit harder than for others. Achille was able to experience how much steeper the South African hills are compared to the Belgian ones, and that it is actually not a bad idea to use your brake every once in a while. For Jonathan however, driving was not a problem at all, it was opening the gate that turned out to be the difficult part. Fortunately, we all returned in one piece, because our day was certainly not done yet. The deadline for our workbooks was early on Friday morning, which meant that a lot of us had a fun evening of homework ahead. We laughed together and we cried together, while slowly everybody slowly but surely finished their thickets.
We did not have time to be tired on Friday, since we had to start the day by washing cars and changing tires. We cleaned the car until we saw our little sun-kissed faces reflect in its exterior, after which we had to appeal to our arm muscles for some tire-changing practice. Here, I wanted to show that women are not as weak as some men think them to be and that they can change tires too, but immediately failed when trying to loosen the wheel nuts. Unfortunately, Acacia could not defend our gender's honor either and we were ready to cut our losses, but then Schalk saved the day. He found us a metal pipe to fit over the spanner to amplify the exerted momentum, which allowed us to defy physics and loosen those darn nuts! In the afternoon, we all got some time to ourselves, which was spent on walks, naps, and studying, as we readied ourselves for the first braai. The Pick n Pay truck arrived just in time to provide us with those lagers that we had been waiting all week to drink. Around the fire, we got to have some nice conversations with the trails guys as well, who we had not seen a lot of in the days before. We had some good food, during which we learned that Victor is in fact able to overcome his language barrier. As long as you ask him about airplanes, he will always find a way to easily fill 30 minutes of your time.
The consequences of the fun we had on Friday night, were waiting for us on Saturday morning. With some fresh reluctance, we shuffled into the garden, our tiny eyes twinkling in the morning sun. We were weeding the vegetable garden and clearing the pathway beside it.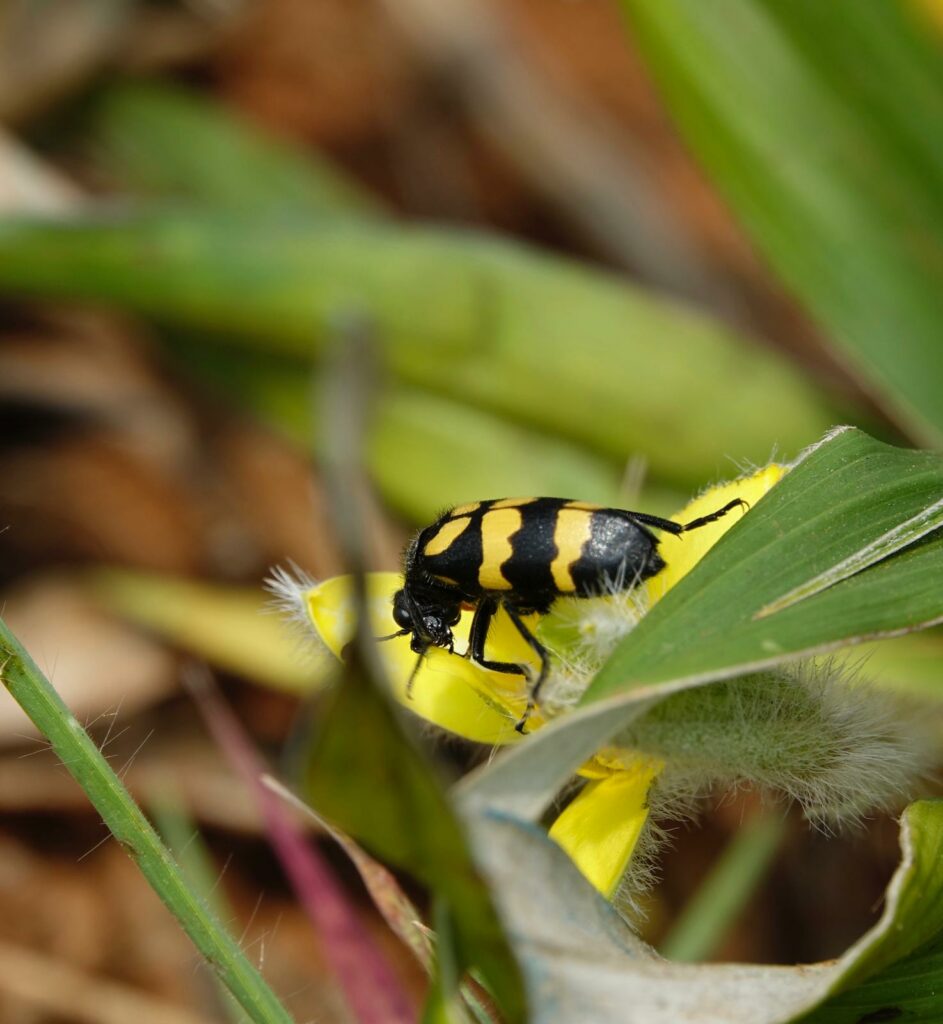 While the sun burnt up, we got some studying done for the Sunday morning test about vehicle skills and astronomy. All of us went to sleep that night with a head filled with new information, some healthy pre-test jitters, but most of all a lot of excitement about all the adventures to come!
---
New Beginnings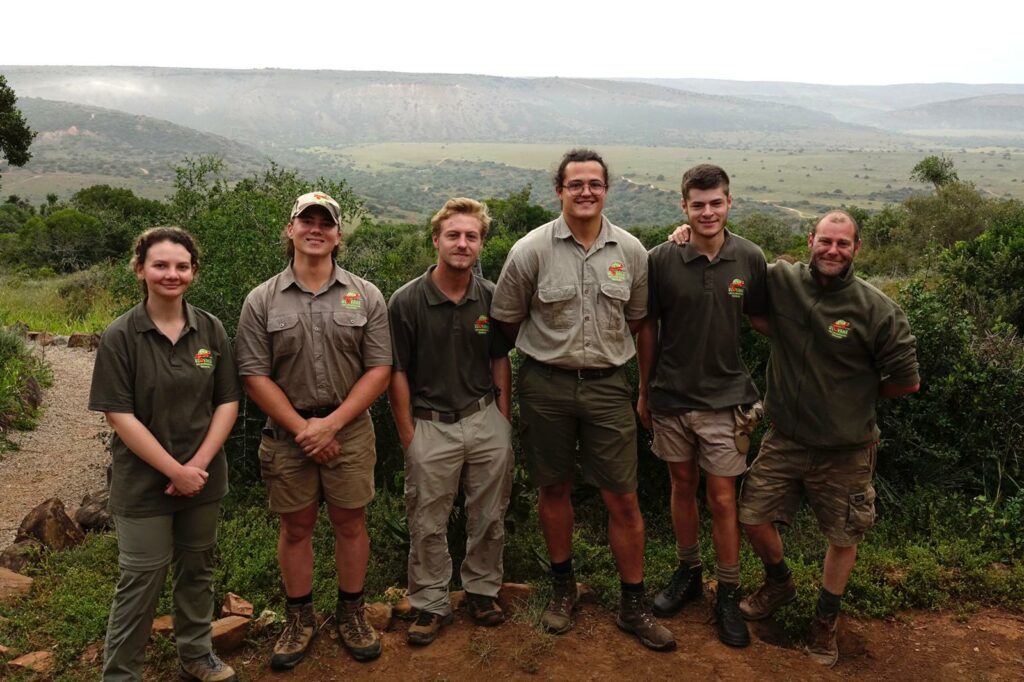 Our first week was full of new and exciting experiences both in the bush and in civilization. The main focus being bolt action rifle handling and developing new skills and techniques to remain safe and vigilant when conducting a bush walk.
We began the week with legal and functioning firearm lectures to prepare us for the proficiency assessment at the end of the week. This involved safe handling, malfunction procedures, functions, and components of a rifle which proved to be new territory for a few of us. It is interesting how quickly you can develop these skills when focusing on them over the course of a few days. Later in the week, we dedicated a day to air rifle practice to develop our shooting fundamentals, the most important part of accurate and consistent shooting. Every time you raise the rifle to your shoulder you think – stance, grip, sight alignment, sight picture, breathing, trigger squeeze, follow through – with the aim of building correct muscle memory for when you start to bring these skills into a dangerous environment.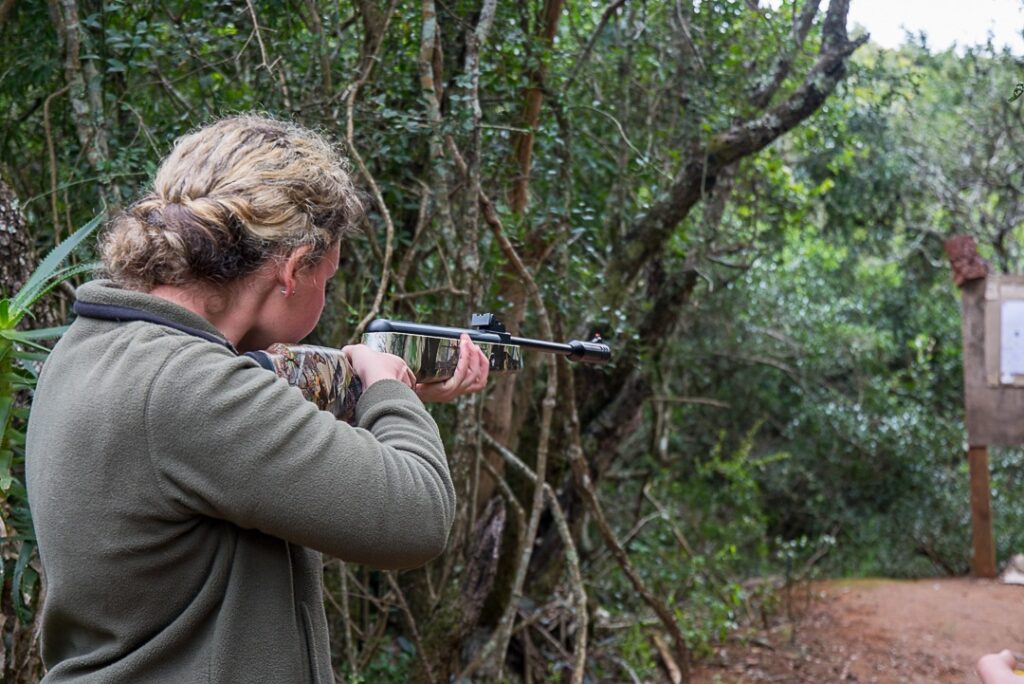 All this training culminates in the PFTC (Professional Firearms Trainers Council) proficiency assessment which consists of three written theory exams and a practical shoot. As we used .22 caliber rifles for our PFTC assessment I am looking forward to getting onto the larger caliber rifles next week during ARH (Advanced Rifle Handling) to experience the immense power and recoil needed to save your guests from dangerous game if, unfortunately, the situation arises where you have to.
This week has really driven home for me the importance of constant situational awareness when operating in what is, simply put, the wild. Later in the course when we start delving into the behavior and manner of dangerous game species, we will become much more familiar with what to expect as a general rule of thumb, although there are always exceptions to the rule in nature. A major part of why I love it at Ulovane so much is the prioritization of ethics. Primarily, our training is to understand how to deal with the worst but mainly how to operate in a way where prevention of the worst is the norm.
"Leave nothing but footprints, take nothing but photographs."
In and amongst our rifle training we went on our first bush walk in a Big 5 reserve and, I have to say, it is a much more personal and tactile experience than in a game viewer. My interests center mostly around botany, tracking, and microfauna which is a much bigger part of the experience when on foot. On a walk, you notice many more of the fine intricacies that nature offers, and this gives you a much greater appreciation for every aspect of the never-ending symbiosis that is the natural environment. If there is something that has stood out to me during my time here it is that nature and evolution fill every possible niche and watching it in practice is awe-inspiring.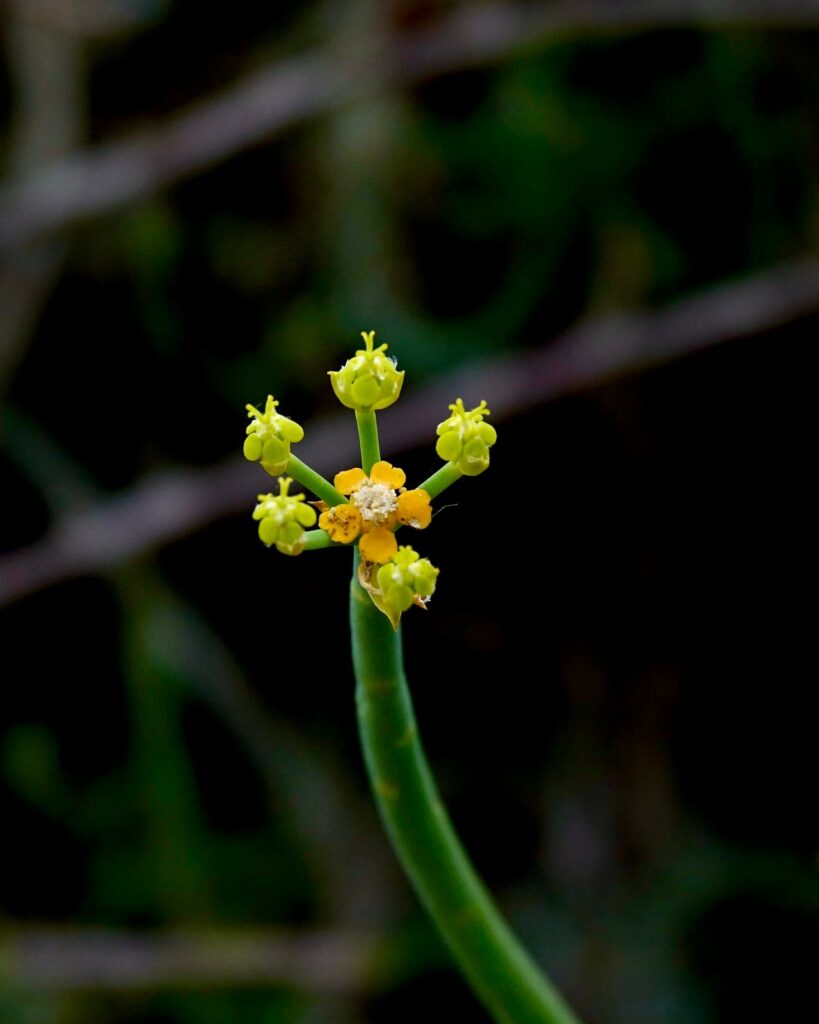 Our eight-hour walk was relatively uneventful (but I prefer the term peaceful) with few big game encounters. That is until the end during our final break near a pan where a lone elephant bull came out of nowhere in search of a mud bath. Our instructor reacted quickly and efficiently to ensure we were in a safe position. He assessed the bull's behavior and it was apparent that the bull knew we were here long before we knew of his presence. It was clear from his movements that he did not have much care for us and was significantly more interested in a cooling mud bath during the hot afternoon. The bull passed within 25 meters of us as he made his way to the pan. It was truly humbling to stand in such close proximity to such a giant of the natural world and observe his normal behavior. The sound that the ejection of water and mud from the trunk made was captivating to be so nearby. The water and mud mixture flew high above even his back and showered down to provide him with a natural form of sunblock.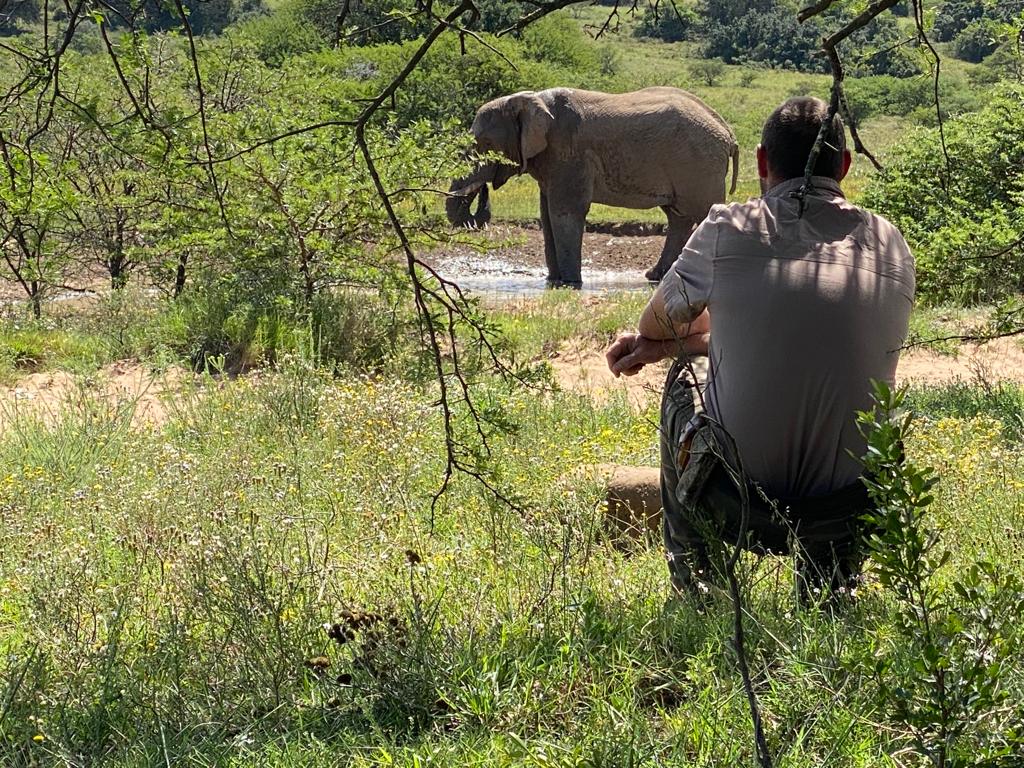 Overall, our first week has given me a lot to think about, from the seriousness of trails guiding to the peace and serenity that can come from being on foot in the bush.