It's all about the little things…
The best way I can think to summarise the past month at Ulovane is to say that it has been full of "little things". Not "little" with regard to the extent of their importance, but in relation to how quickly these moments have passed, and yet, they have left lasting impressions on me.
Little things like stepping a few meters from a beautiful Rhombic Skaapsteker, seeing my first Cape Penduline Tit, stumbling upon a porcupine in broad daylight (feisty bugger), witnessing blazing sunsets that make you think the sky is on fire. It's the sight of a fluffy newborn waterbuck, the call of an African Fish Eagle, the feeling of a chilly breeze on your face on a crisp, autumn morning. It's having a cup of coffee in an unspoiled valley, safely sneaking up on sleeping lions, photographing candyfloss clouds, and the freedom and sense of adventure you experience when you're out there "in the bush".
Something else that I have appreciated is getting to spend time with like-minded individuals – ones who are just as interested in all things nature-related, as I am. Things like how to identify an aardwolf track, what a Red-eyed dove sounds like when he's warming up his vocal cords, and even what plants can kill you!

Perhaps one of the most comical and exciting moments was when our instructor picked up a whiff of death and all my fellow students went into full CSI mode to find the hidden carcass. Well, 15mins later, we realised why our search wasn't bearing any fruit. We were all focussing on ground level when someone finally spotted it- an aardvark in a tree (an abandoned leopard kill)!
To conclude, something that I've come to realise is that the Ulovane experience isn't just about trying to ace tests, boost your ecological knowledge or obtain a field guide qualification. It's about meeting decent people from different parts of the world, making friends, discovering new passions, being reminded of how much there still is to learn and why you entered the Conservation/ Wildlife industry in the first place!
– Tammy Smith
Do the little things right to reach the big goals." – Tom Izzo
---
You cannot compare walking with lions and elephants, with anything…. it truly is LIFE CHANGING!
As the beginning of our third week here at Ulovane started, our Monday began quite stressful. We had our final Advanced Rifle Handling assessment day which would allow us to conduct a guided trails walk on Amakhala. Exercises after exercises were completed and after the final charge exercise, where everybody, even me, turned out to be quite nervous. Almost all of us succeeded and got our ARH. From then on, all the fun, experiences, learning possibilities, and encounters began!   
I was lucky enough to pass my ARH first, so it was my turn to walk with the rifle the following day. An amazing experience from talking to my fellow students as they were my guests to taking them on a bushwalk with Schalk and me. The whole experience was so different as a guide with a rifle than what I was used to as a 'guest'. You're constantly aware of all the sounds, smells and your surroundings to provide the safest possible time out there for your guests. Constantly busy with potential danger, wind direction, sun position, and geographical layout. All and all my first walk on the rifle was spectacular! After the walk, however, I was exhausted from all the things my brain had to process during the walk.  Hats off to guides and trainers that do this every day!!
Later on, in the week we went on another walk, this time with Maddie and Pieter on the rifles. After only five minutes from the start of the walk, we bumped into our first sighting of the day, the herd of elephants! Spectacular! We decided to safely follow them for a bit and we're able to stay with them for a couple of hours with a safe distance between us and then, without them knowing we were even there. Absolutely stunning!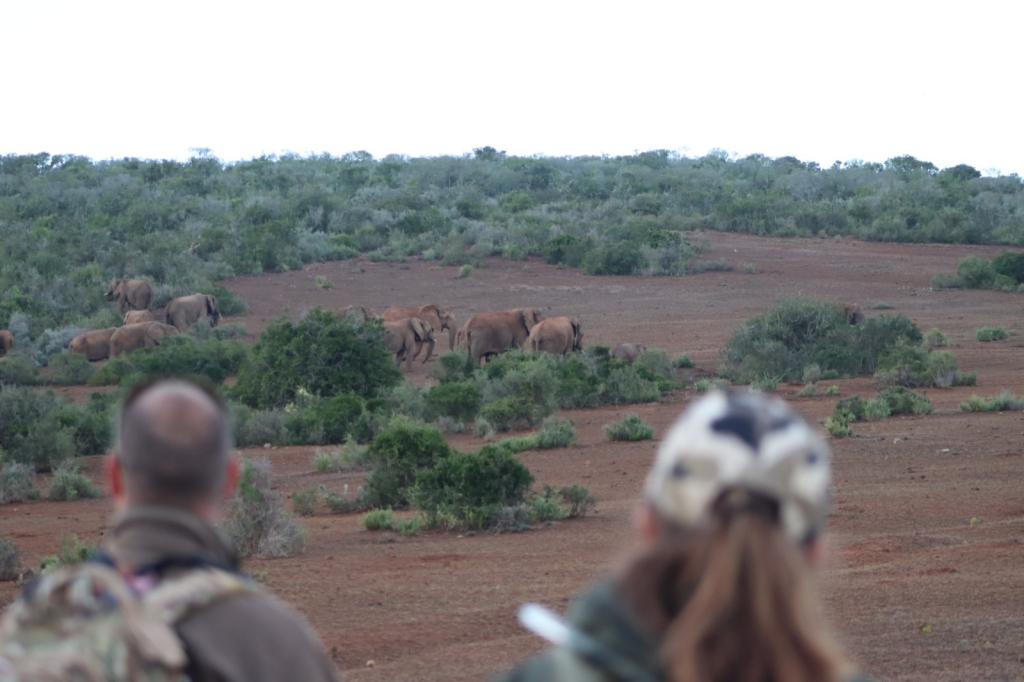 As we continued our walk, we picked up some signs of the lions and started walking in the direction they seemed to have gone in. After some time looking for the two lion brothers, we found them laying down, sleeping. Absolutely unbelievable to witness the lions on foot! It was totally different compared to seeing them from a vehicle and a more exciting way to see those majestic animals.  At one point one of the lions lifted his head up and started looking around. We then left the sighting peacefully and safely and carried on with the walk.  
Sunday after the exams about orientation skills and conducting trails guided walk, we were lucky enough to be able to spend our free time on horse trails on Carnarvon Dale with the horses from Woodbury. Such a lekker thing to do!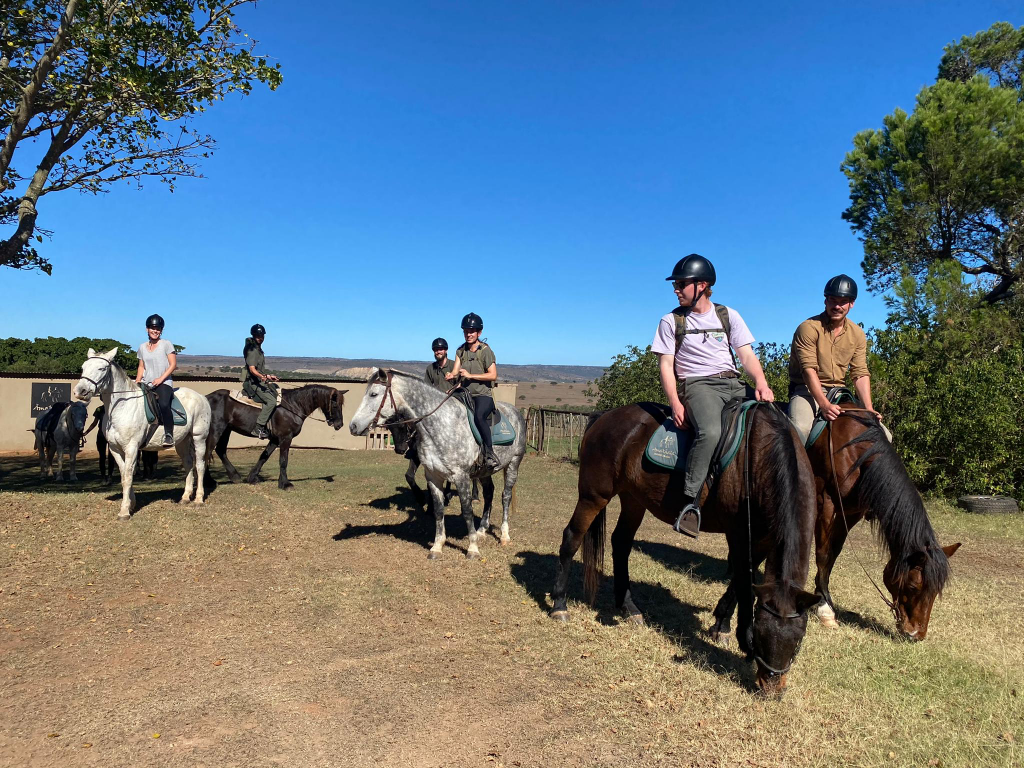 I cannot believe that we are already halfway through our Apprentice Trails Guide course already! During this past week more of us got the opportunity to walk on rifle and we covered some fantastic aspects of tracking, birding, and animal behavior. We had many beautiful sightings with big five where it was really impressive to see and learn all the aspects of wind, sun, cover, escape routes, safety precautions, and much more when approaching the animals.
On to so much more hours out in the field and keen to learn more and more out there!
"I looked around and thought about my life. I felt grateful. I noticed every detail. That is the key to time travel. You can only move if you are actually in the moment. You have to be where you are to get where you need to go." – Amy Poehler