The thing that all the instructors warned us about: is time flies at Ulovane. I honestly feel like I have been here for eight days, maybe nine. But we already have completed week six, with only four more weeks to go. Luckily, it has been a great ride so far and I really look forward to those last weeks here.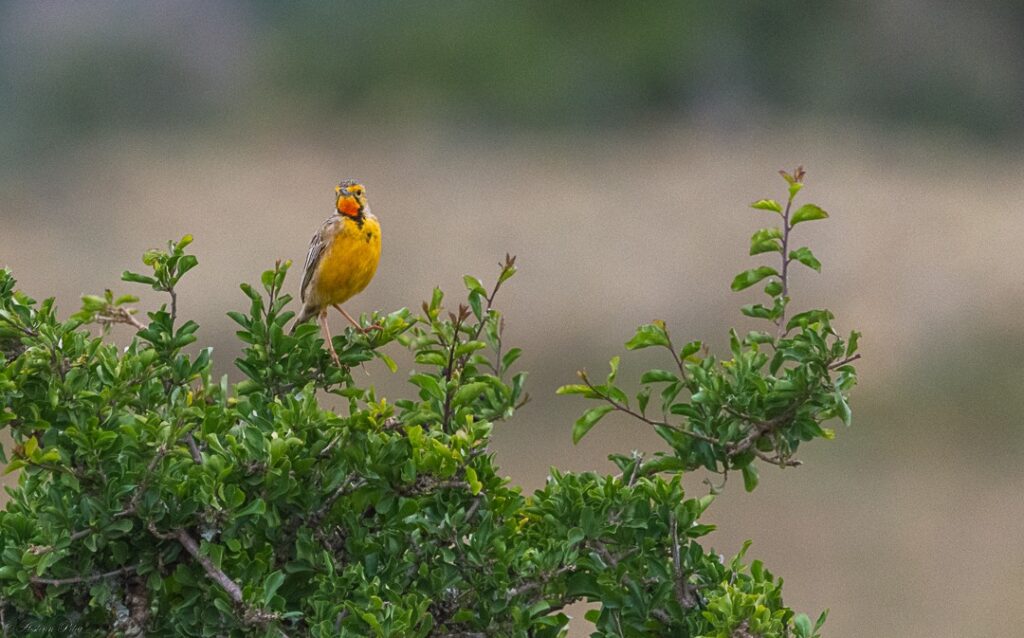 This week was all about amphibians, conservation, and historical human habitation.
With a new week to come, a new guest arrived: Mino. Mino is a terrific senior guide at the Shamwari Game reserve next door, he is staying for about two weeks to help us improve our knowledge and prepping us for the assessment game drives. One of his many qualities is that he takes his time explaining things, or I should say that he has a great ability to meander.
At the beginning of this week, we heard Theodore, our trusty Land Rover, hooting when we were all working on assignments. As soon as we saw a vervet monkey on the vehicle, we knew enough: the monkeys were once again to be blamed. Or so we thought……
Later that day, Theo decided that it would be funny to toot his horn again and did not stop, going all out at random intervals, causing irritation amongst many students. The land rover even went as far as trying to scare away the giraffes that we were looking at. The giraffe was looking up to see what was going on, which made for great pictures. However, at the wrong time, with the wrong animals, this could cause us a problem and we decided that we had had enough of this tomfoolery and would simply turn off the horn system. That however involved disassembling half the engine to get to the horn and physically disconnecting the cable, since the straightforward way (the usual fuse) had apparently been removed at some point in the past. After a lot of sweat and frustration, Mino and I managed to disconnect the cable, ending the saga of the phantom hooting.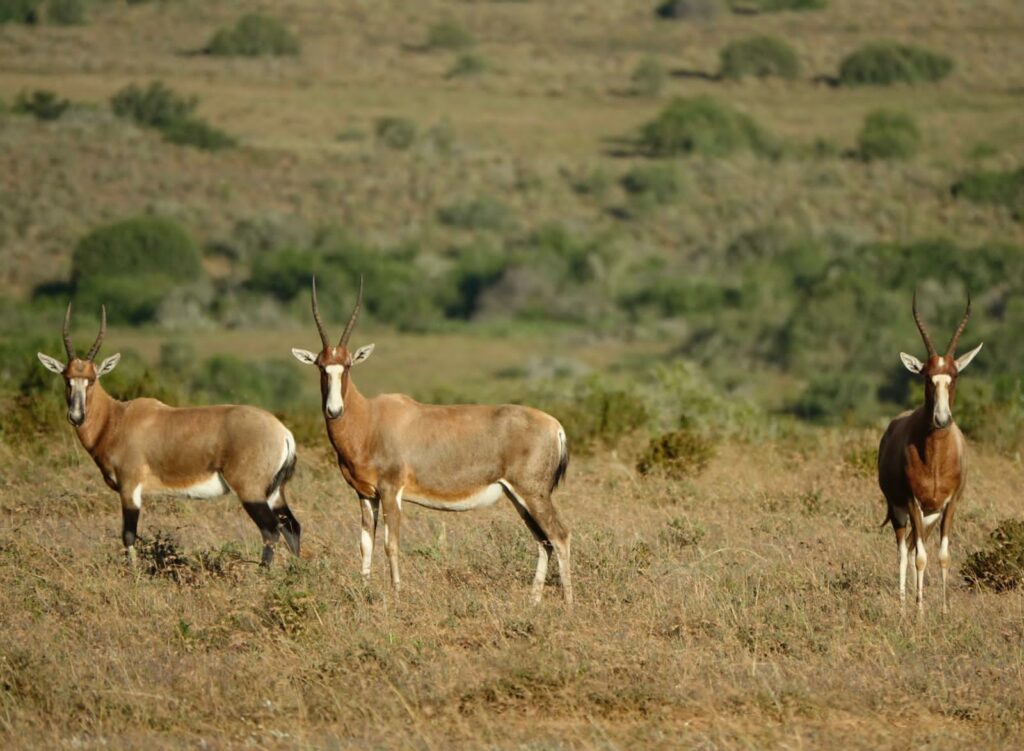 Throughout the week, we completed the subjects in the morning, after which we had an afternoon game drive. Thursday, we treated ourselves to a double game drive: one in the morning, one in the afternoon. All these game drives were, as usual, breathtaking.
Friday was the most stressful day by far; since trails had their graduation – of course, they all passed – we had the honor to organize and host the dinner for twenty-seven lovely people. For this, we went to great lengths to create the best dinner we could give. Not that this was done in one day though; we had been talking for a longer period about themes, welcome drinks, and the all-important menu.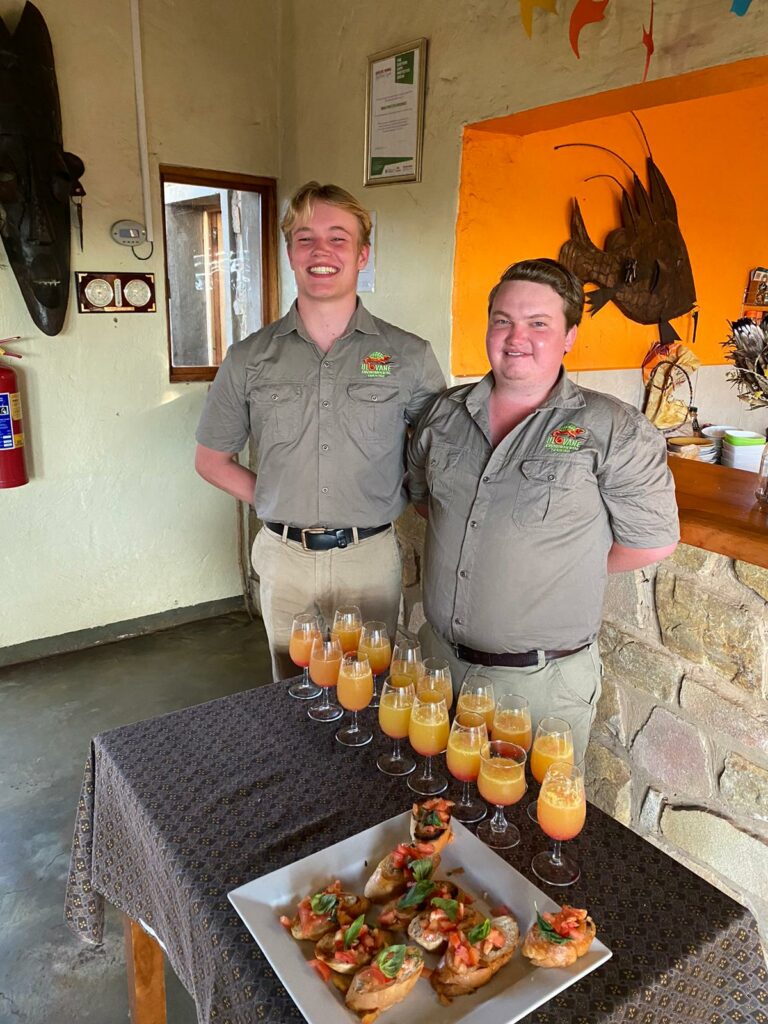 We started the day chatting with Karien and Candice, after which everybody started right away. As 18:00 came closer – we started to pick up the pace even more. When the guests arrived, everybody was fulfilling their own tasks, but we were quick to find out that it was about everybody doing as much as they could, helping where needed.
Thanks to the great cooking of the chefs, the bartenders keeping the glasses filled, the dishwashers keeping the plates blinking, and the smooth talk of the MC everybody had a stunning evening. It is safe to say that the amazing result that we put together was because of the great teamwork. This made us also realize that hosting breakfast, lunch, and dinner in a lodge is not as straightforward as it may seem and that close collaboration is a must.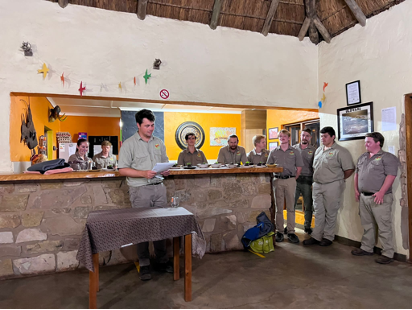 I can say for myself that I enjoy every second of this course: the different subjects (although some more than others 🙂 that we talk about in class, putting them into practice, and slowly developing to ultimately be a field guide make this an unforgettable adventure. It has been an extremely unique experience and I am sure that the rest of the course will only further "enhance the experience." – Jonathan Kosters (NL)
---
Birding is my new favorite hobby!
This week we tackled reptiles and birds. Birds, I found to be one of the most interesting subjects, but also one of the hardest to get to grips with.
Our first game drive of the week, we found ourselves with the elephant herd and had the opportunity to sit with them awhile. The herd crossed the road and came within 10m of us. It is quite something to be surrounded so closely by approx. twenty elephants. At one point it looked like the larger more dominant males were going to fight as they stood face to face, staring into the whites of each other's eyes! Turns out they were just sizing each other up and fluffing their tail feathers.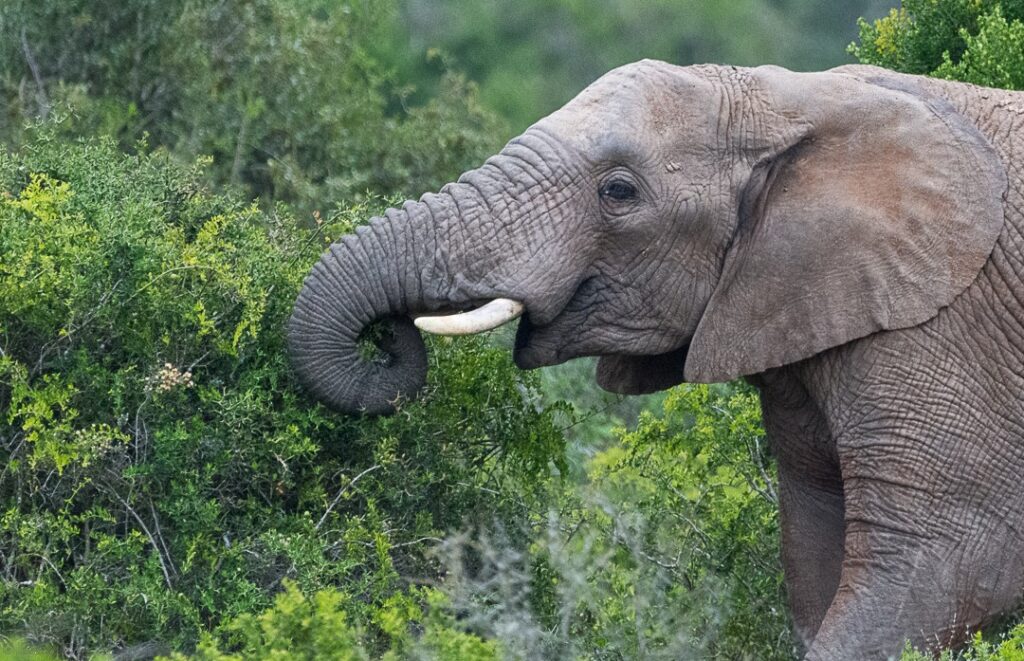 In the afternoon we were back in class, where we listened to the calls produced by some of the Southern African birds, fifty species to be precise! This led to some funny moments, and a lot of laughter, as, in order to help us memorize the sounds, we associated them with words and phrases that sounded similar to the bird's call. Example: Greater Honeyguide – Victooor Victooor! It became my bird (for obvious reasons). Another bird, the Cape Longclaw, for most of us, sounded like a lightsabre being drawn or a laser being shot on the set of Star Wars ha ha!!!
November 16th was my birthday, Rhino Memorial Day, and a day of birding with Piet. Firstly, I would like to thank everyone for all your words and hugs to wish me a happy birthday! These may be small things, but they really make me smile and I would like to say thank you again!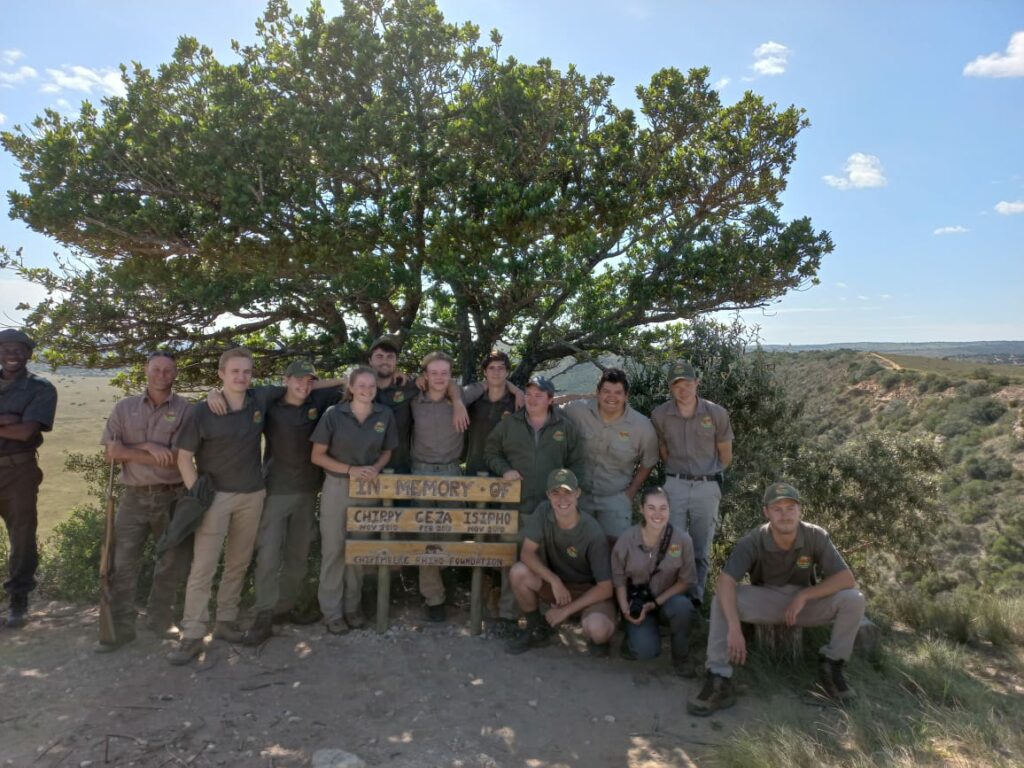 We left Ulovane at 06:00, our first stop was at Gods Window, where we met up with the landowners, rangers, APU, and guests of Amakhala to pay tribute to Rhinos that had been poached on the reserve in 2010 and 2011. Giles Gush opened the proceedings and William Fowlds gave a talk on the current state of affairs for Rhino in the country and in the Eastern Cape, it is looking pretty dire in parts of the country, especially Kruger. But the Eastern Cape is fairing well and thanks to the incredible work of the APU units, Amakhala has not suffered a poaching incident since 2011. Once all the guests had left, we made our way into the reserve as two vehicles and went looking for birds, while driving Piet told us stories about the first elephants brought to the reserve and about many other things that were so captivating. We were lucky enough to be able to take a short walk to view Amakhala's Grand Canyon a small valley of red stone cut by erosion it was BEAUTIFUL!! Thank you, Piet!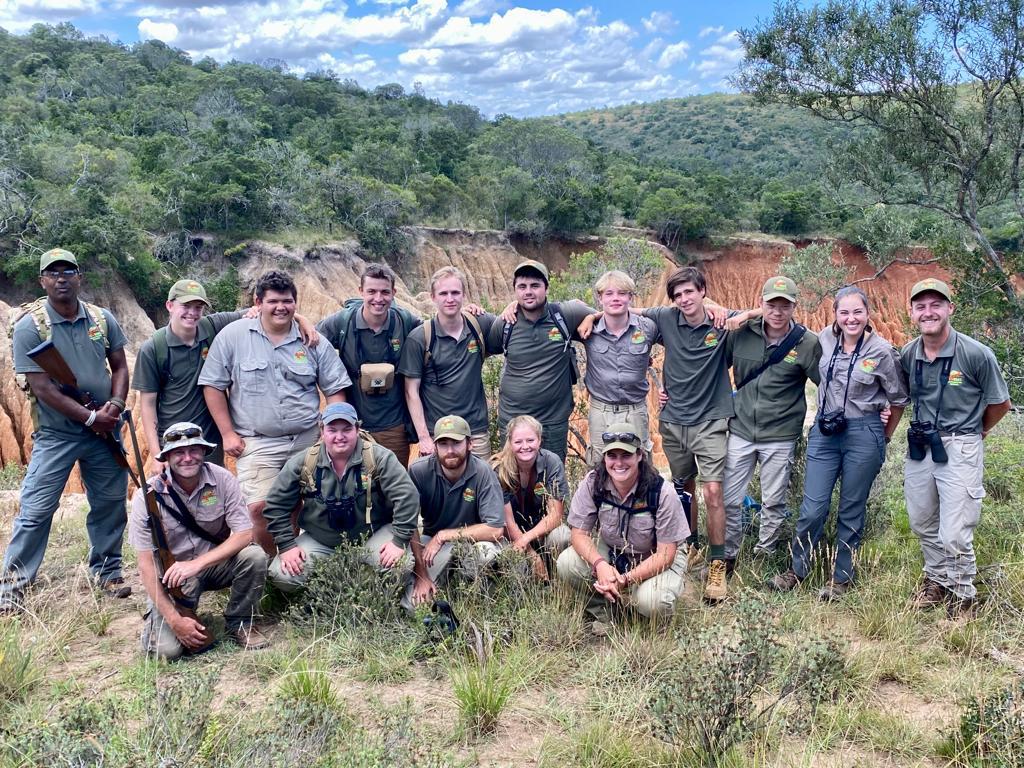 For lunch, it was a small braai in the bush (AWESOME!) and in the afternoon I drove Sully back to Ulovane. The afternoon is often the best time in the car because towards the end of the Journey everyone is relaxing, joking, and laughing!
On the last day of game drives this week, I was able to take some amazing aerial shots with my drone. I managed to follow a Black Backed Jackal who was running through the bush and got some terrific top-side and profile shots of an elephant moving through the thicket.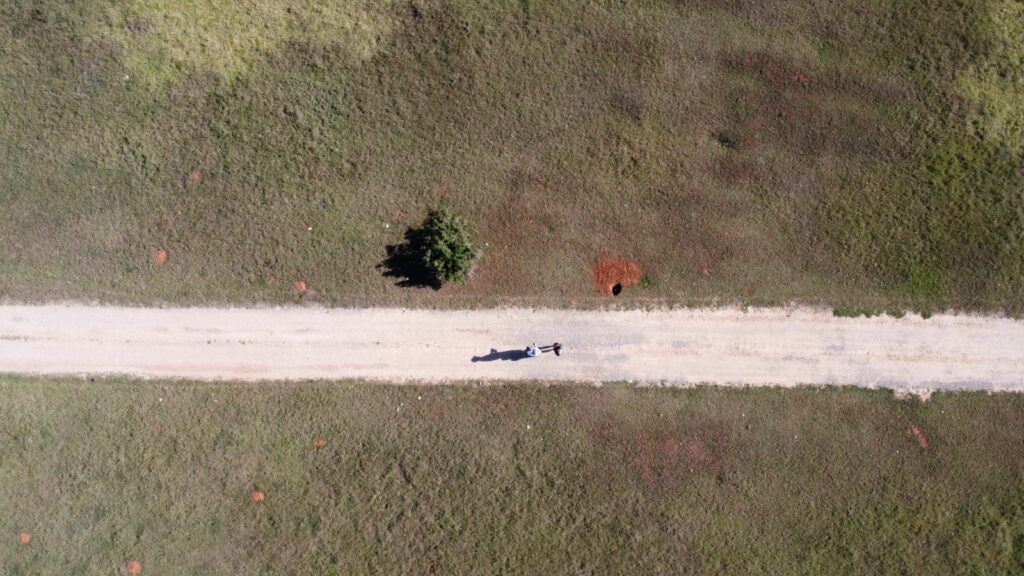 That day was also the last in the cars with Mino, a guide from Shamwari reserve and this has been one of the most beautiful human encounters have had in my life!!
THANK YOU, MINO, AND THANK YOU ULOVANE! – Victor De Clercq (Belgium)
"Live with intention. Walk to the edge. Listen hard. Practice wellness. Play with abandon. Laugh. Choose with no regret. Do what you love. Live as if this is all there is."

– Mary Anne Roadacher-Hershey