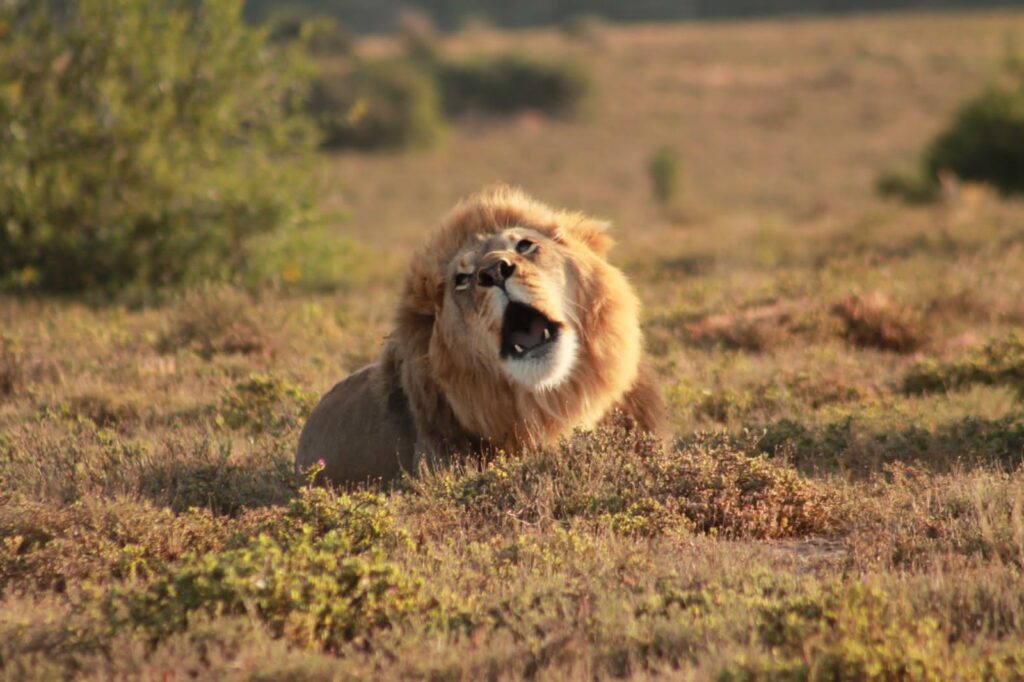 This week, the field guide students reached the halfway point in our Ulovane adventure.
We began the week with our usual Monday morning lecture, learning about weather and climate. Later in the day, we were given to opportunity to catch up on our first aid booklets, whilst Karien put us through our paces with a tyre change assessment. Little did I know this extra practice would come in very handy later in the week… It was a day of long hard academic work, but a very productive one.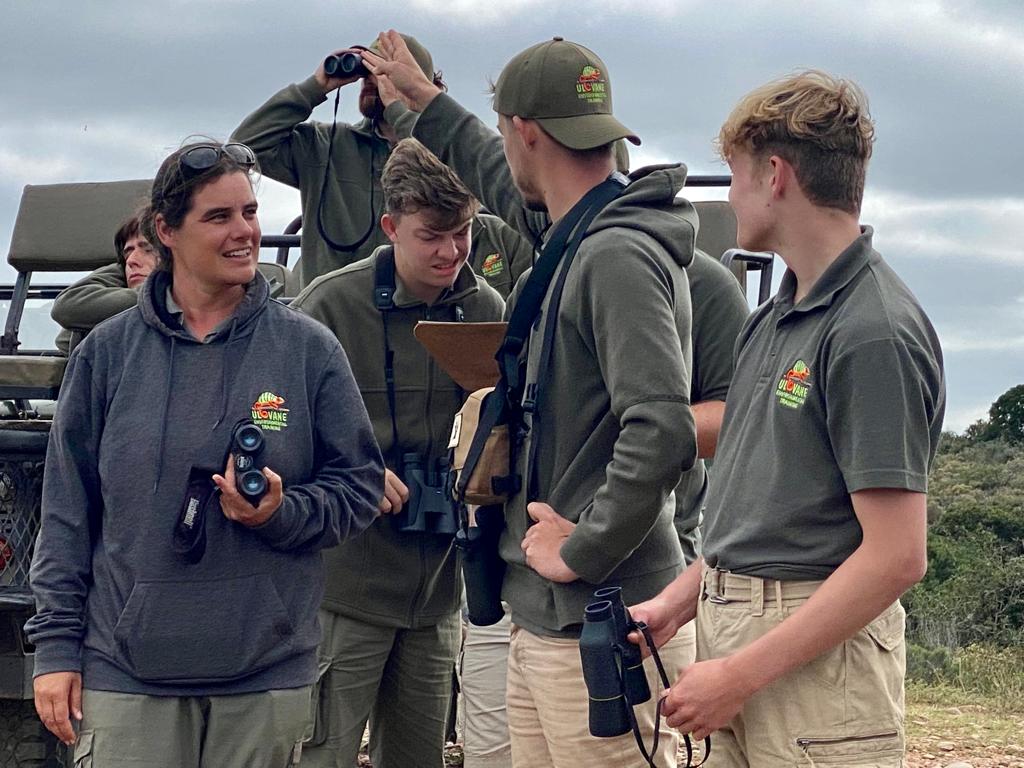 This week we focused on Biomes and it also marked the start of our solo practice drives in preparation for our assessment, with Acacia and Tiaan taking the reins that afternoon. Without the input of Schalk or Karien, we were truly guiding for the first time, and it was certainly eye-opening to the challenge that lies ahead of us. A highlight from the day was Tiaan's group sighting some Bat-eared foxes at dusk _ AMAZING!
The middle of the week was incredibly special, as we embarked on our first-ever mock tracking assessment. Last week we received a tracking lecture from Piet, and now we had the chance to put our newfound knowledge to the test. We set out at the crack of dawn to spend the entire day out on the Ulovane property and Amakhala game reserve working on our tracking skills. Schalk and Karien took us to three different locations and selected a number of tracks for us to identify at each. In between our second and third sets, we headed down into the dry Bushman's River to find some shade to enjoy our lunch in. After a heated debate about whether the dung we were looking at belonged to a Zebra, Warthog, or Eland, we returned to camp. After all the scores were tallied, I would say we did pretty well on the whole for our first attempt at a tracking assessment.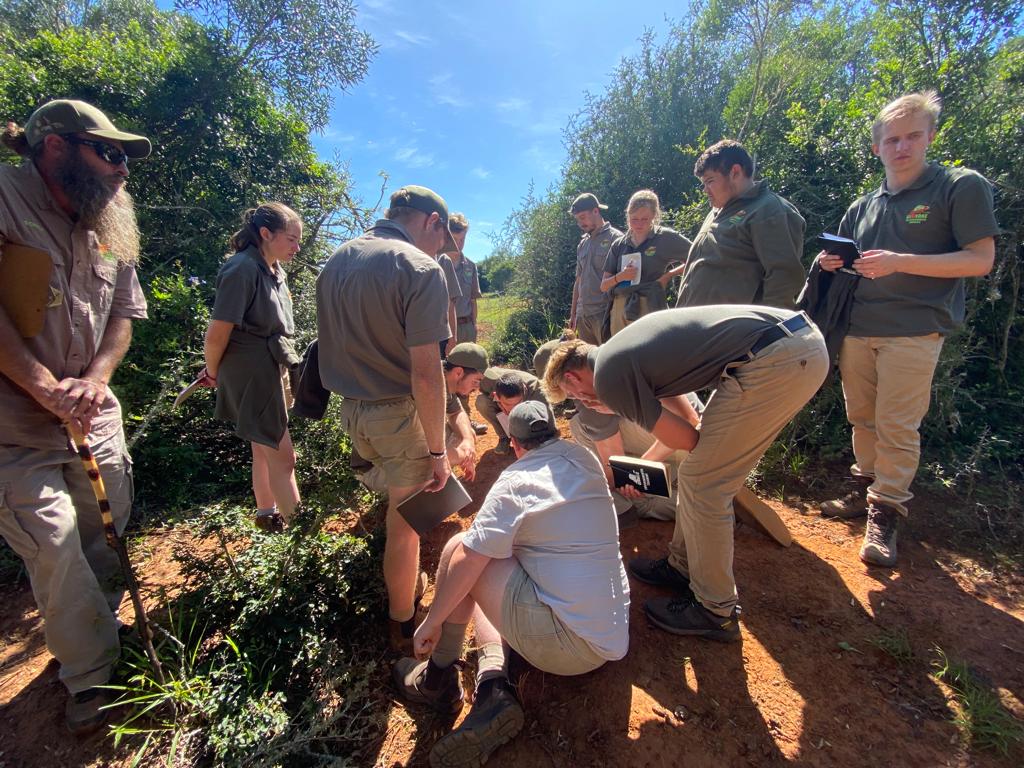 Towards the end of the week, it was the turn of Laurien and me to take on a solo game drive. We decided as a group to make a proper day of it, and drive to a remote part of the reserve to explore and braai some boerewors. Our drives went pretty well on the way to Corner Valley, with Laurien's group enjoying great sightings of two separate secretary birds, and my group had a remarkably close encounter with two giraffe bulls. A particular highlight from my drive was when we stopped to identify a Kudu print, and Matt F had the opportunity to explain how we came to that identification to a group of Amakhala guests who stopped by.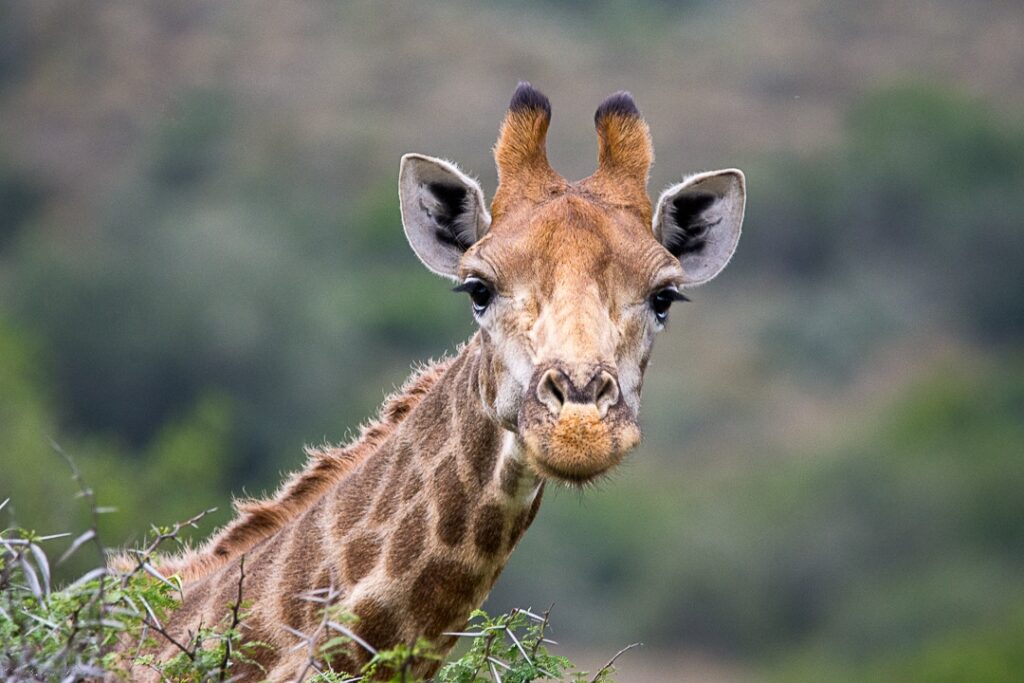 However, it was not all sunshine and spekboom. We soon discovered that there had been a miscommunication, and both vehicles were heading in the wrong location. We quickly worked out our new route, and after negotiating a downhill that felt practically vertical, we eventually made our way into Corner Valley. We spent 2 hours exploring the area, braaiing wors, and talking about the complexities of schoolboy rugby. After lunch, Matt S and Jonathon took over driving duties, and we got rolling again. We headed back towards camp on different routes from the morning and had some great sightings. Our group stumbled upon an ostrich family with chicks, whilst the others had an incredible sighting with the lions, who attempted to hunt a giraffe. We ended the day with some well-earned downtime and a game of pool in the Lapa. Overall, a fantastic day out on the reserve, and important lessons learned about pre-drive communication, as well as being able to adapt your route on the fly.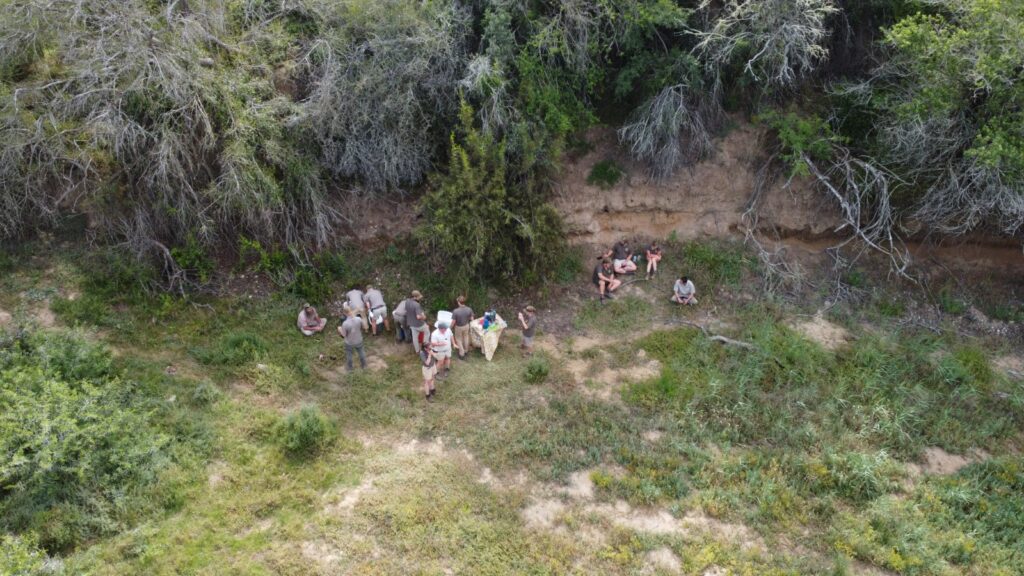 Thursday marked the end of the academic week, so Friday morning was spent working on various tasks around Ulovane. Planks from the recent deck refurbishment needed to be packed away, wood needed to be gathered and sorted, vehicles washed, and the garden needed its usual tending.
After a hard shift in the morning, Karien and Schalk took us each aside at points throughout the day for a talk about how we were faring with the field guides course, our plans for the future, and to raise any issues we may be having. Afterward, we all settled into our study routines to prepare for Saturday's exam. The week came to a close on Saturday, which was spent revising our Climate and Biome knowledge for the test that afternoon.
Week five was, for me personally, the most unique and challenging so far here at Ulovane. Many new skills were learned, and just as many knowledge gaps were identified, but all in all it was another amazing week out in the Eastern Cape.
– Gregor Bell (Cape Town, SA)
---
A truly great journey begins and ends on the railway tracks.
The last two weeks have been full of long walks in the bush, memorable encounters with the local wildlife, and tracking!
James and Liam have been taking in turns to walk first and second rifle in preparation for their assessment walks which will take place in our final week (week 6). There is a lot for them to think about, the planning of the route, the comfort, and engagement of their guests, interpreting the bush, and adapting to ever-changing situations, this can be especially true when making an approach to view large game, such as rhino and elephants.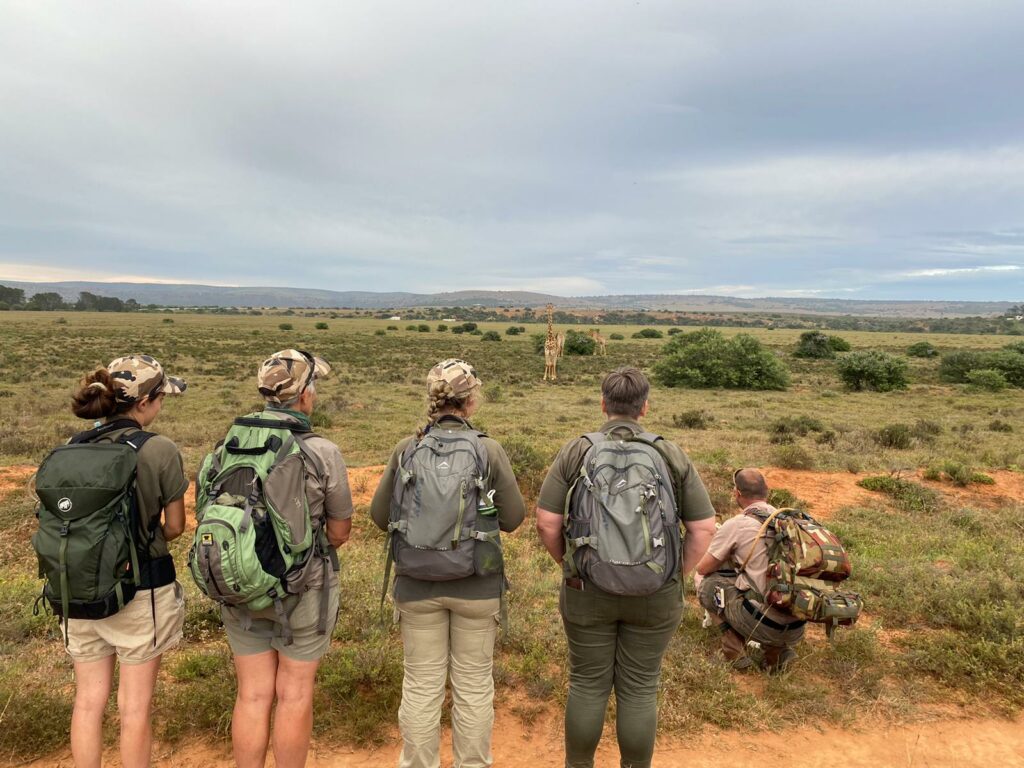 Each walk is followed by a full debrief, here guests and guides have a chance to sit down, discuss the walk and provide feedback. Both James and Liam have taken on board the feedback provided and the progression in their skill to plan and guide a walk is clear, even over such a short space of time. We wish them all the best for their assessment walks and have full confidence in them not just passing but in becoming excellent apprentice trails guides in the future.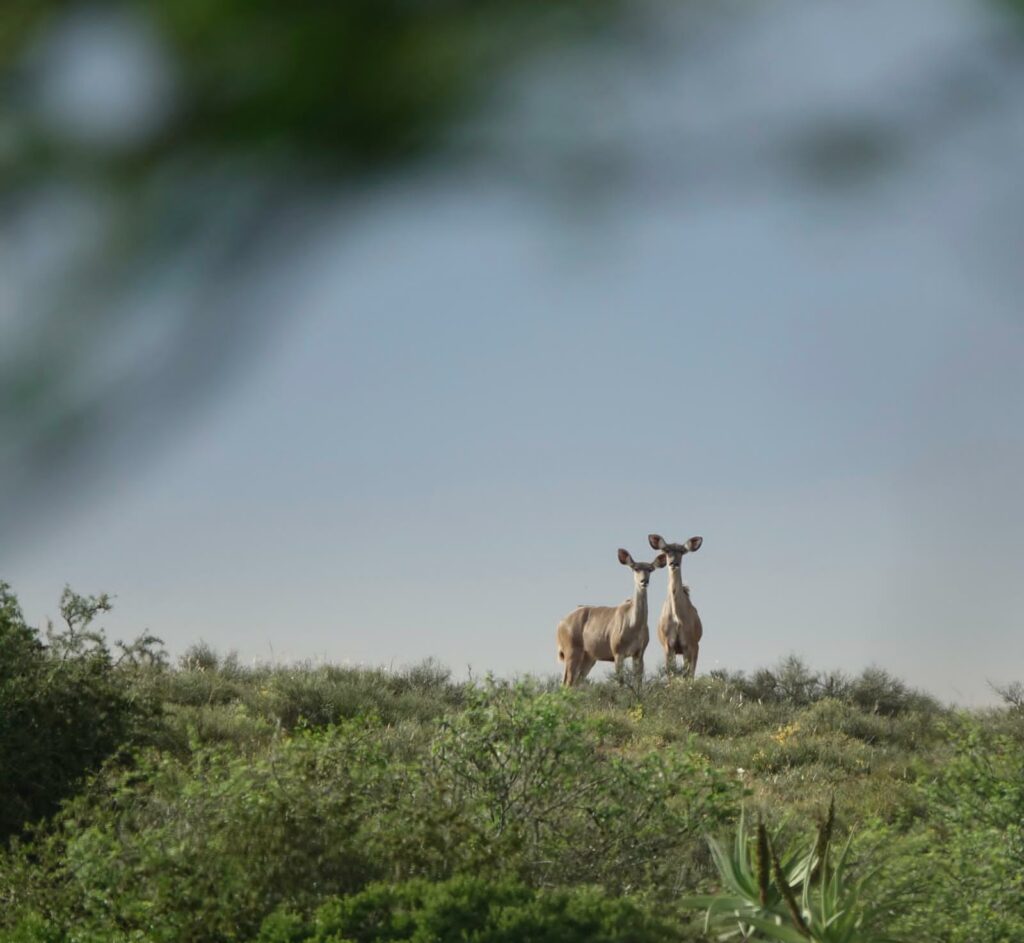 Up until last week, we had not had too many encounters, we are required to have ten encounters during the course. Thankfully, this week, the wildlife smiled upon us, and we had a wonderful walk, with three fantastic encounters. Two of these were with rhinos, both encounters went to plan, and we were able to view the animals and leave the sighting without the rhinos being disturbed. They did see us leave the second sighting, but as we had a good distance between us and they could see we were moving away and posed no threat, they remained relaxed and shortly returned to the rhino business of feeding.
Nature then also gifted us with a beautiful hippopotamus sighting, including mom, dad, and baby, the baby hippo was riding on mommy's back, it was my personal favorite sighting so far.
One thing we have all focused on, especially this last week is tracking!
From the biggest elephant tracks to the smallest arthropod tracks, no animal remains untracked.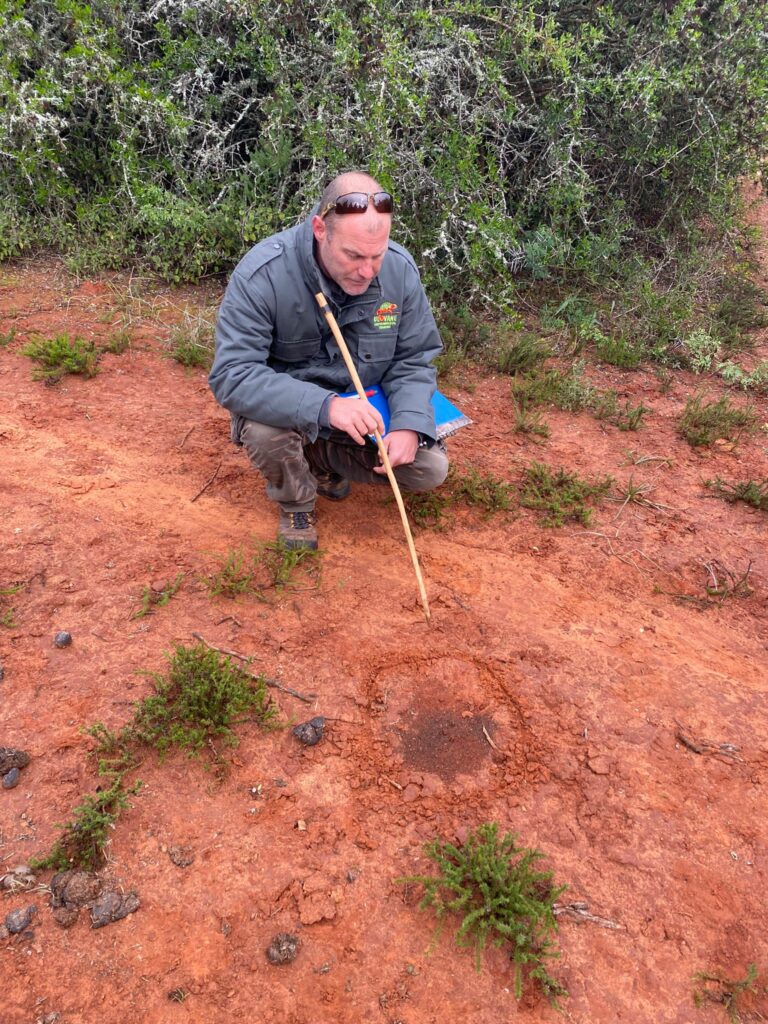 Piet kicked off the tracking with a class-based lesson, everyone sat in on this, trail guides, field guides, and camp interns alike! This was followed by a day out for us to complete a mock assessment. Piet found us a good 30-35 tracks to get stuck into and completed the day as if it were a full Cyber Tracker assessment, including results at the end! This was a great learning curve and definitely helped everyone to get their eye in as well as to learn how to manage the long waits in between sets of tracks, it can be difficult to maintain concentration over a long day (this was evident with some slightly hysterical laughter coming from the back of the cruiser by the time the day was done).
It is quite interesting and fun to see what each animal leaves behind to mark its existence. We even discovered an unusual track on one of our walks that is not seen often and most of us had never seen it before, we are still unsure as to what it was, so students and trainers have been left a bit flummoxed (not something that happens often for Piet!)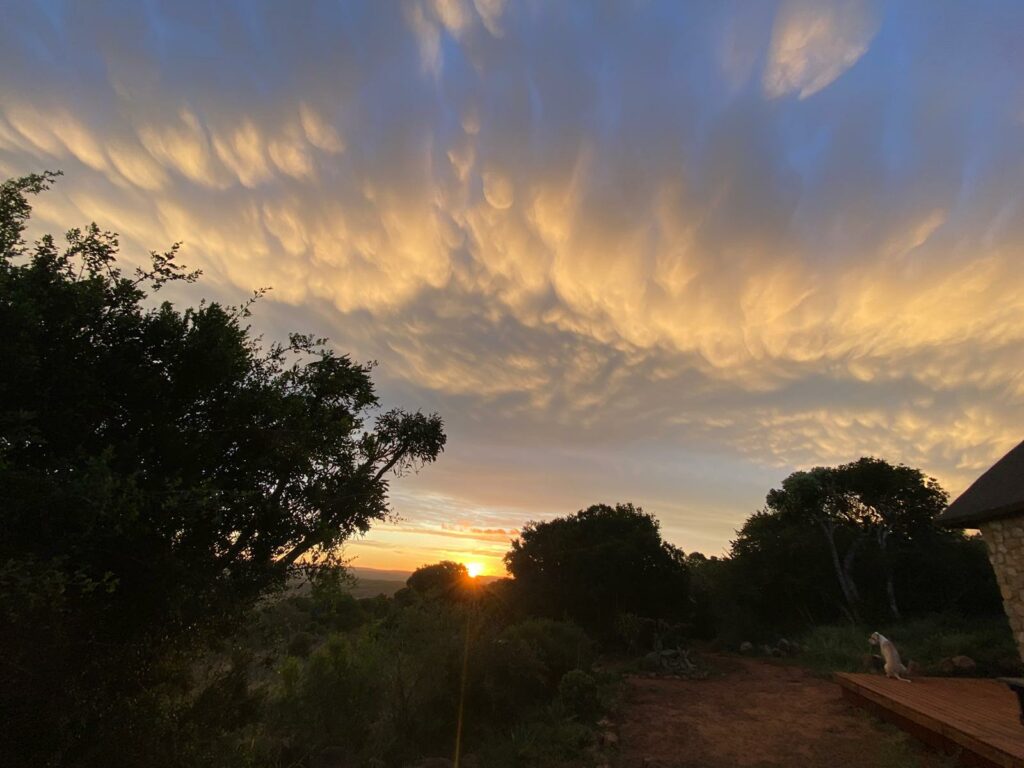 The two weeks culminated with our Cyber Tracker assessment, this had been planned to take place over two days (Saturday/Sunday), however in agreement with our assessor, as we had got quite a lot of tracks already on Saturday, we decided to push on and complete all the required fifty questions in one day! So, with that, our assessment was done in a blink of an eye. We finished strong, with everyone in the group achieving a level, which is brilliant! I am truly proud of all of us!! Huge thanks to Andrew Kearney for coming out to assess us!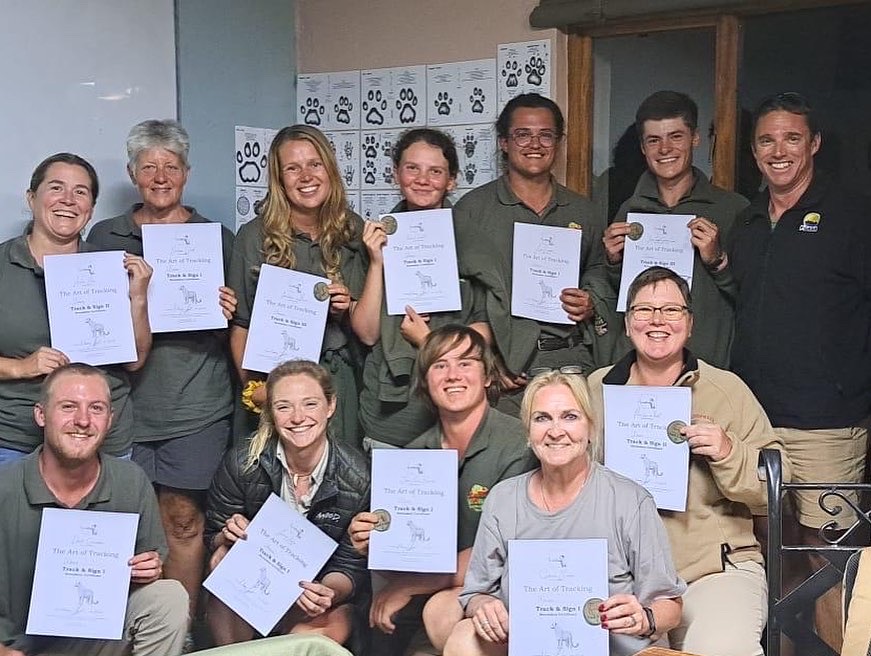 As we managed to complete this on Saturday, it left us with a rare day to relax on Sunday and we ended our busy week with a lovely beach day! We all deserved it and are now ready for the upcoming last week of trails. – Karien Greef (Cape Town)