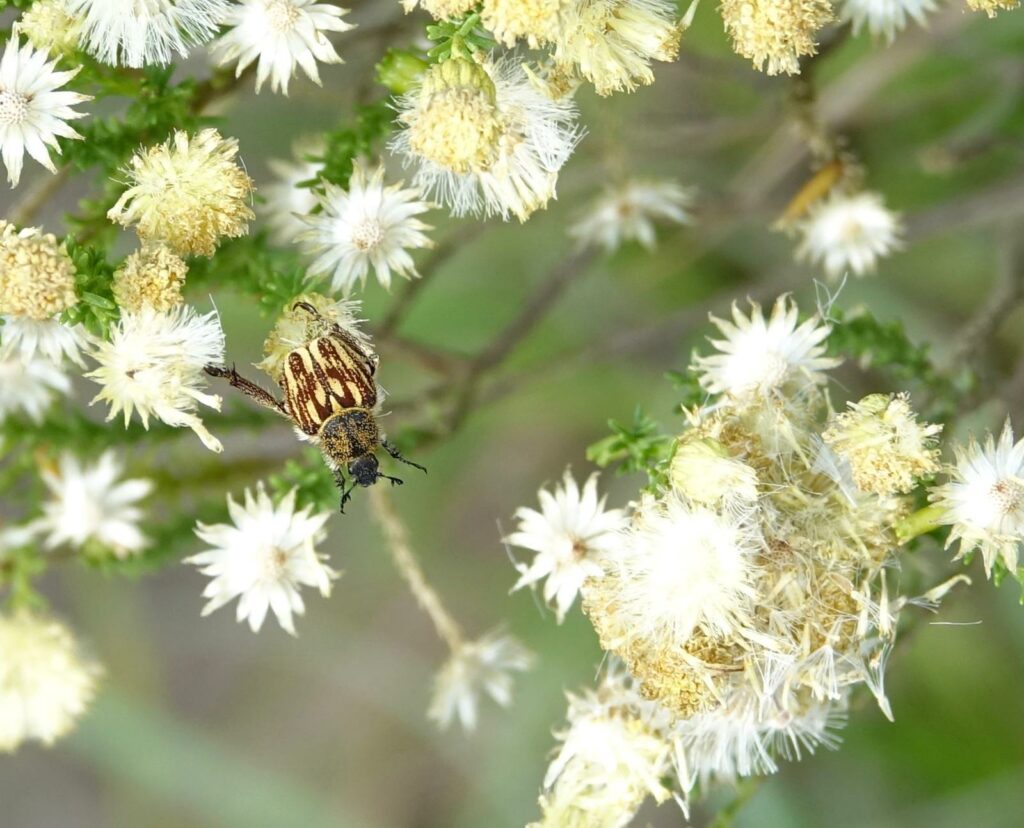 My favourite moment of this past week was going walking with the trails guides.
This opened me up to a whole new experience. We were learning animal behaviour and had the opportunity to get up close and personal with the animals we were learning about. We had the best time following the animals and I can see how if you as a guide do this for years, you can become a part of the animals' life. Learning the intricate details was a big part of this, we looked at tracks and the best sighting for me was seeing the signs of the rhino marking his territory. Another highlight was when we followed the elephant herd and were able to view them from a short distance away. We decided to follow them for the remainder of our walk. This led to us walking and climbing halfway up the mountain to get an aerial view and be at a safe distance. This experience encourages me to learn more about animal behaviour and to find out why they do what they do.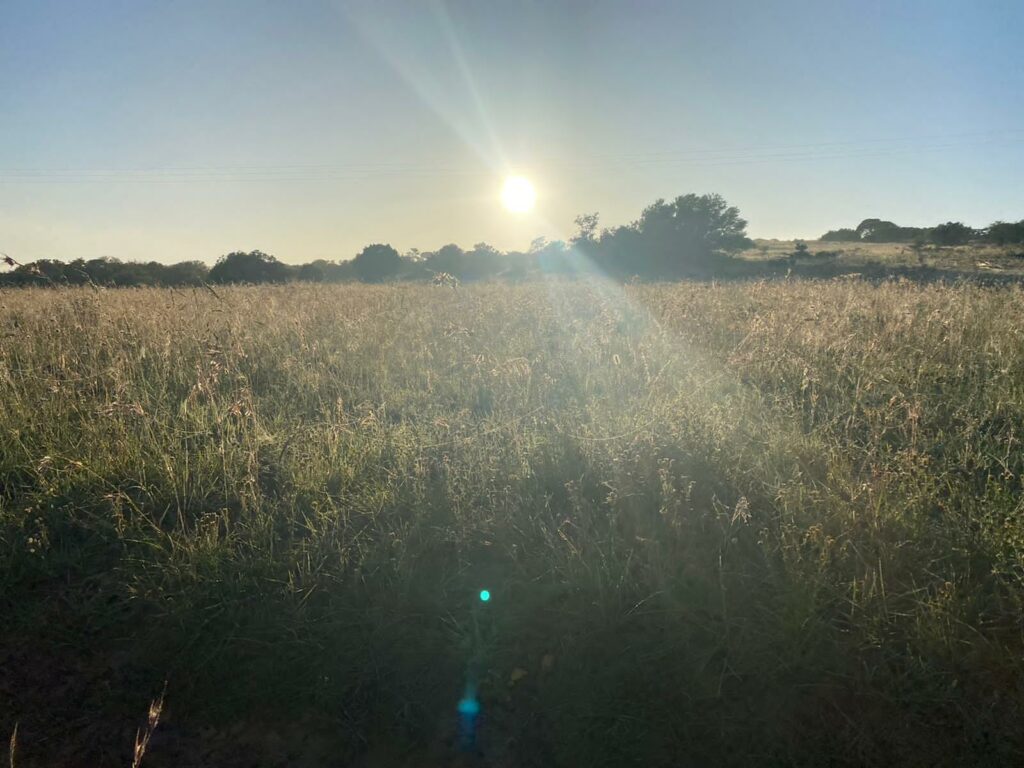 Botany week was interesting, we all had our hand's full finding and identifying the different trees, flowers, and grasses on our species list and more. We collected samples and took them back to camp then spent ages trying to identify all the plants again, making labels about what each plant was and its uses. Karien and Schalk then helped us set up lines in the Lapa, so that we could hang all the samples that we found and identified.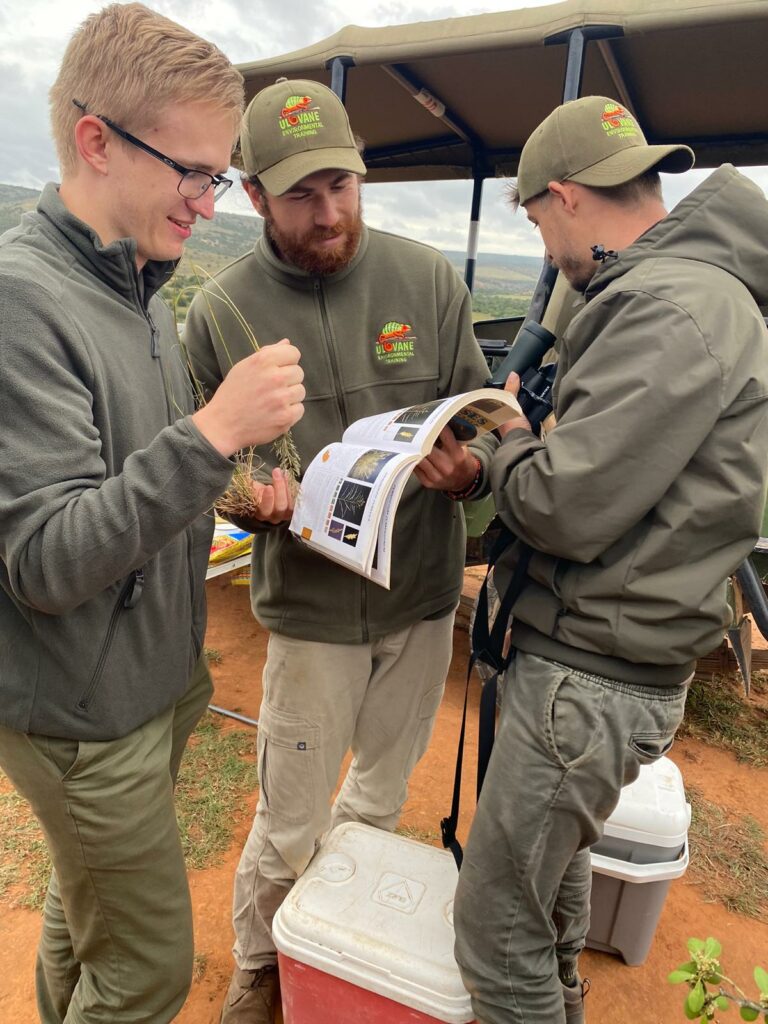 Part of our Botany includes presenting our own products that we had made throughout the week to the rest of the class. The products had to be made using the plants we had learnt about and other plants that we had around us, making natural products. I made a broom/fire beater out of Wild Olive. Ethan made a wooden butter knife using Sweet Thorn wood. Acacia made paint out of flowers and leaves from common guarri, Blue Commelina, Gum Bush and flowers for the Fygies family. Laurien made earrings out of Needle Bush, Broad Leaved Panicum, Plumbago and Ivy Leaved Pelargonium and flowers from the Fygies family. Jonas made a stone hammer using wood from the Wild Olive as the handle and a piece of quartzite as the hammerhead. Matthew F made a multi-tool using Wild Olive, Common Guarri, Pork Bush and Red Grass. Matthew S made a double-pointed spear using Wild Olive and mother-in-law's tongue. Jonathan made a Jam out of berries from a common guarri. Achille made tea using the leaves of the Wild Olive. Greg made a healing concoction using Pork Bush. Liam made an after-sun and face cream out of Bitter Aloe. All of our presentations were amazing and all of us had great ideas of what to do with the nature around us. Mathew F's multi-tool outdid us all!! – Tiaan Nel (South Africa)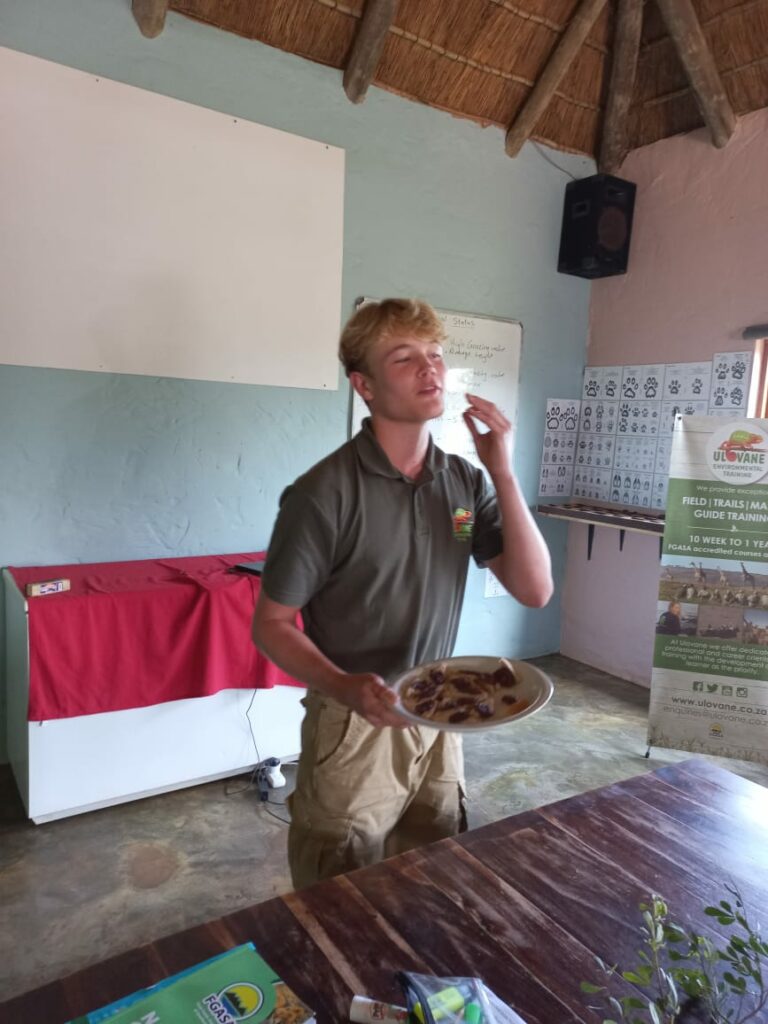 ---
This week was our fourth week, and it had some great highlights.
We concentrated on botany. Learning everything about grasses and trees, including their flowers, leaves, and roots to name a few. We also learned about their ecology, the traditions around them and their medical uses. We have to be able to identify a sizeable number of trees, grasses, and flowers to pass our exam at the weekend and to be able to discuss them when out in the field.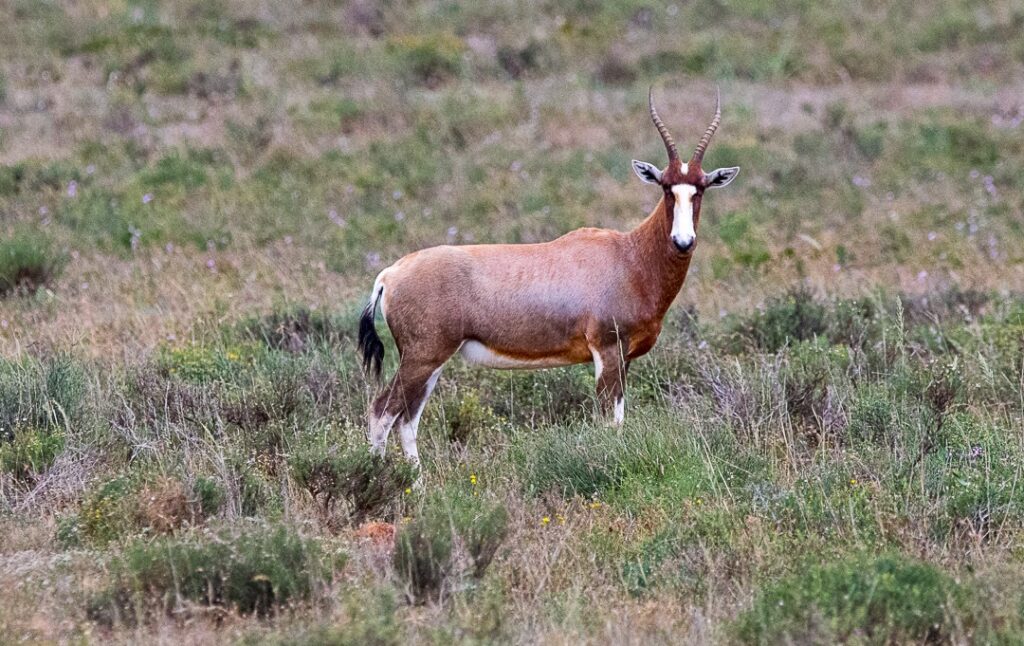 We put a lot of time and work into plants but we also had the chance to take part in hospitality night, this is hospitality 101, delivered by Candice, who taught us all about hospitality within the industry, what the expectations of guests are, that being a guide is not just about knowing your plants and animals, but about entertaining and hosting your guests, creating those special memorable moments for them and leaving them with once in a lifetime experiences. As part of this, Candice introduced us to the world of wine pairing. We tasted many wines like Chardonnay, Sauvignon Blanc, Merlot, Dessert wine and more. We had to pair all these wines with food like dark chocolate, cheeses, biltong, apple, and lemon. Some of these combinations turned out to be surprisingly good while others were absolutely terrible. We also talked about the best things we had experienced so far, and we all had great laughs about some of our highlights.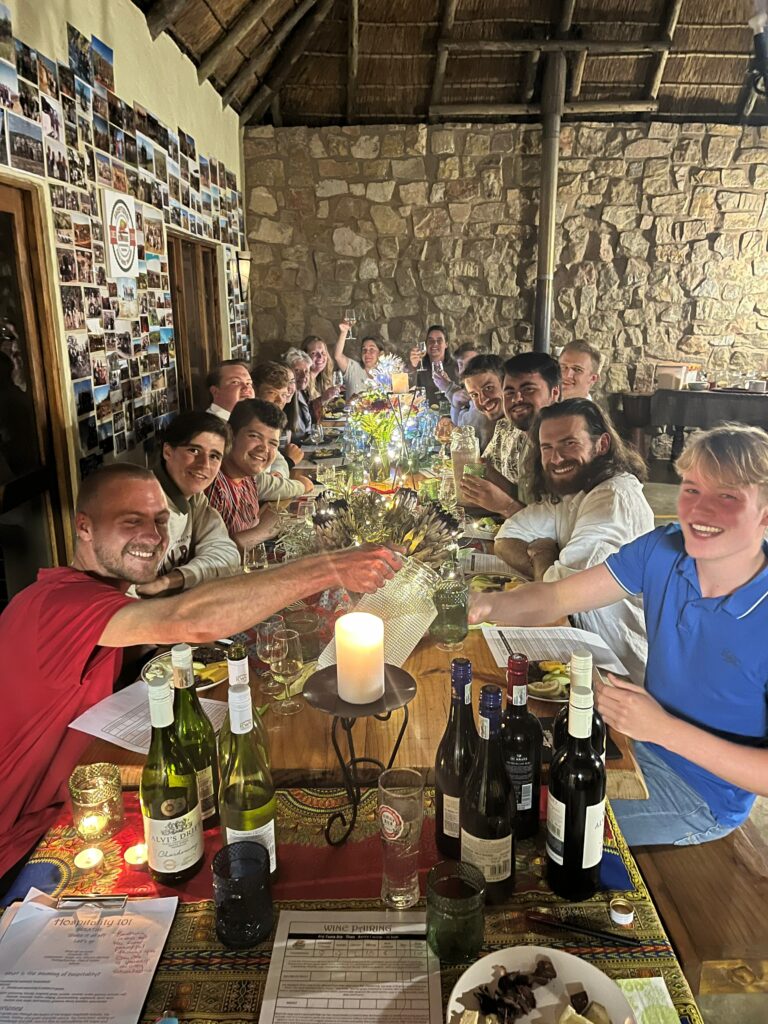 On our game drives, we got the most amazing sighting with both elephants and a white rhino. We saw the whole herd of elephants passing by and it was just so cool. Later on, we came past a white rhino and Schalk knew with his experience where the rhino was going. So, we drove up there and the rhino came out, right on queue giving us another amazing up-close experience.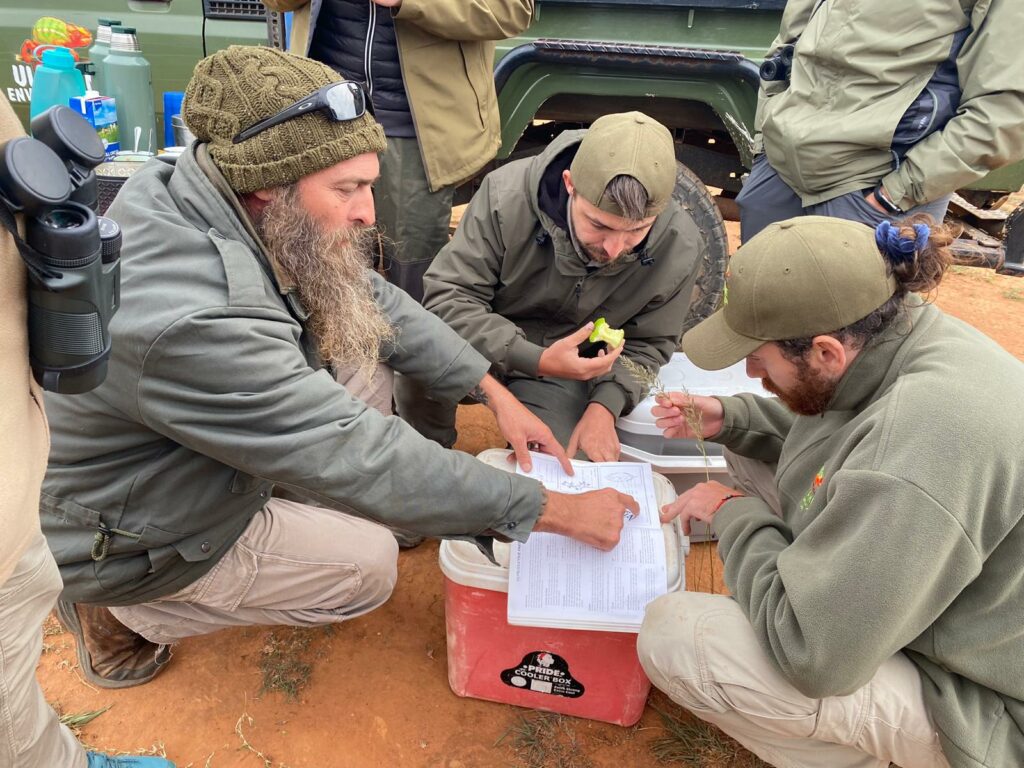 This week was also the begging of our first official tracking lesson, and it was amazing. Seeing our teacher Piet talk with so much passion about tracking was quite inspiring.

Looking forward to the week ahead, where we will be enjoying more about tracking, weather & climate and biomes!! – Jonas Broos (Netherlands)